Apprenticeships at 3B Training
Apprenticeships – 3B Training are pleased to welcome two new apprentices!
At 3B Training, we are extremely pleased to welcome our two new recruits on apprenticeships. Ryan and Charlotte are local to the Wigan area. They are keen to gain administration skills and hands-on experience in the workplace. Through 3B they will gain first-hand, an insight into the construction and training industry. This newly gained knowledge will give them the opportunity to further their career. Apprenticeship has offered them to work within an office environment and apply those newly found skills within their role.
Ryan Latham (Admin Apprentice)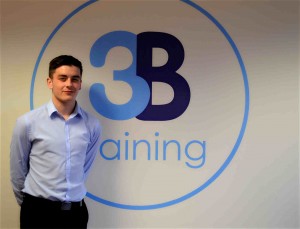 "3B Training instantly attracted my attention from the minute I had my first interview. The employees, from top to bottom welcomed me. The overall atmosphere in the office appeared very professional. It seemed a great place to work with high team morale. I feel that 3B has offered me the chance to get into full-time employment through apprenticeships. A vacancy that I may not have found elsewhere. They have also given me the freedom to find out which role within the company would suit my strengths the most. Although I still have a lot to learn, I am motivated and enthusiastic. I plan to put my every effort into the opportunities I am given in the hope that I will be employed full-time at the end of my apprenticeship."
 Charlotte Marshall (Admin Apprentice)
"I attended my interview with 3B Training and instantly felt a bond with the staff. After completing my first week with them, I can honestly say I absolutely love my new job. The company is constantly growing; my fellow employees are great and I have received an extremely warm welcome from day one. Although I have only been here for a few weeks, I have enjoyed every minute of it, and have learnt so much in such a short space of time."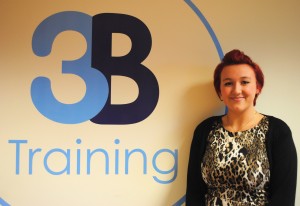 The apprentices will be attending college once a week commencing in September, to complete a business-related NVQ. This qualification will help to make them aware of the challenges that may occur on a general working day. It will give them the skills to deal with any situations that may arise.
3B Training is constantly growing as a company. We hope to continue our expansion and extend the areas of which we provide training in. Recently they decided to offer new courses. Those courses are; Customer Service Level 2, a course which I think it is agreeable to say, all businesses' will benefit from. We also offer a Food Hygiene course. At 3B Training our customer-focused team will definitely work to the best of their ability to source the training that you require. We are always willing to support you along the way.
3B Training offers a range of courses to meet the needs of our customers.
They offer a variety of construction skills accredited courses. The courses encourage employees and employers to continue to improve their expertise. They aim to meet business needs and to further their career in their chosen industry.
Health and Safety and First Aid courses are also available which attract the attention of a range of workplaces as a compulsory qualification needed to increase safety in a busy organisation these courses are extremely popular.
To inquire about any of the courses that 3B Training offer please contact us here
Back to News
View Our Courses