Keeping warm on Construction Sites in the winter
Sorry to say it, but winter is on its way. With it brings the cold, rain, wind and snow which can be horrible for those working on outdoor construction sites. In order to help you stay warm during the winter months on site here are a few tips you can use when the temperature drops.
The dangers of cold weather on construction sites
If you're not wearing the relevant clothing when working in the cold you are exposed to all kinds of conditions; arthritis, joint pain, cold sores and windburn are all causes of prolonged exposure to the cold. In serious cases, you may also be at risk of frostbite, hypothermia and even heart attacks.
Keeping Warm:
Wear enough clothing
It seems obvious but a lot of people don't do it. Make sure you wrap up; thermal socks, gloves, a hat, a scarf and under layers can all be vital in keeping you warm. Be mindful that you need to have enough insulation but not too many that it will restrict movement or blood flow.
Don't improvise
Make sure you have the right clothing to do the job; wear gloves instead of putting your hands in your pockets. By having your hands free it will help decrease the risk of an accident happening. Make sure you are wearing the correct footwear for outdoors which can withstand slippery and difficult terrain. If you are wearing gloves make sure they are suitable for the task you are conducting; mittens and thick gloves will not suffice if you are doing an intricate task with your hands. If you have to do a task that involves full use of your fingers wear finger-less gloves and if you need certain PPE for your hands you could wear gloves underneath them.
Keep moving
This will keep both you and your manager happy; the best way to keep warm is to keep moving when working. Body movement will help to increase blood flow and generate heat around the body and will also make you look busy in front of the boss.
Salt your surroundings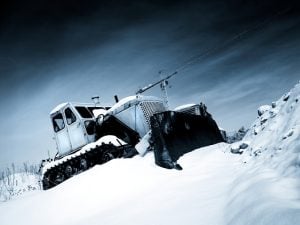 If your workspace is covered with ice the likelihood of an accident is pretty high from the result of a slip or trip. When de-icing your area,
make sure you are doing it the right way; use rock salt or grit to thaw any snow or ice and cover with sand to stop the floor from becoming slippery. Retain from using hot or warm water as it will soon freeze over and create an unsafe surface.
Winter Construction: How To Stay Warm On Site
For more on how to stay warm on site read our blog here
Back to News
View Our Courses