Women in the Construction Industry
The number of women in construction is on a steady increase.
So much that there is an award to celebrate the brightest and the best female achievers in the house building and wider construction industries. The Women in Construction Awards.
If this is the case why so many people think that the industry is no place for Women? Some may argue that females don't want to be in the industry. They think that is why there is such a lack of females in construction. Some firms may say they are open to employing women will they actually do so?
Does the construction industry need to change its image of loud macho men? Will this help women to move to a less traditional career path? A lot of women think of construction is all manual work. There are much more construction jobs out there in which the average woman is a perfect target audience.
A lot of people don't realise they are discriminating a woman in the construction industry.
A lot of women are unintentionally sheltered by their managers or are not considered for some jobs.  The manager thinks they are doing the right thing in doing so. A lot of people consider a woman in this industry a novelty factor but once a woman becomes a more powerful part of a workforce that's when problems occur.
A lot of people have the idea that the onsite workers are the ones who discriminate on site but from a study from training consultant Chrissi McCarthy, it shows that these problems occur more at management level. And has witnessed occasions of women experiencing a great amount of stress and discomfort on-site, sometimes enough to make them burst into tears. This may not be from malicious intent; the person may just find the situation alien to them. The fear of the unknown has in the past caused the men to laugh at young women who were interviewing for a manual role.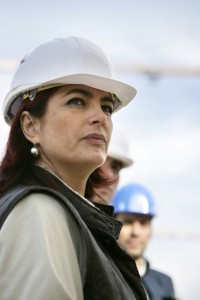 Another factor that puts women off construction is the money; that the average weekly pay for a woman in a construction job was £396 compared with £525 for a man. The occupations surveyed included managers, skilled construction trades, construction operatives and elementary construction occupations.
Although companies are trying to change the image of this industry it is clear there is still a long way to go.
If you are a woman in construction and you are looking for further training click here.
Back to News
View Our Courses