COVID-19: What 3B Training have put in place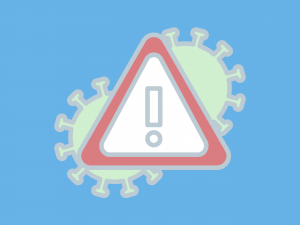 We are working hard to ensure that our delegates and staff are safe when visiting our training centre during COVID-19. We have put procedures in place to protect delegates and staff at our Head Office in Wigan. Take a look below at the 5-steps we have put in place to make sure 3B is COVID-19 secure.
COVID-19 Risk Assessment
Before the reopening of the Wigan training venue, we conducted a risk assessment of the building and asked all employees attend a short training/induction to make sure we complied with being COVID-19 secure.
Develop cleaning, hand washing and hygiene procedures
Throughout the centre, we have installed hand sanitising stations. We encourage delegates to use these when entering the building and regularly throughout the day. We are also actively encouraging delegates to wash their hands regularly.
Staff are required to disinfect their workstations daily and clean the kitchen after every use. They must not buy or prepare food for any other staff members.
Help people to work from home
We want to reduce unnecessary contact with other individuals. Therefore we have provided staff with the facilities to work from home and team meetings are delivered over video-call. We have limited staff in the centre during classroom course days and those who are in the office must work from their designated workstation.
Maintain social distancing in line with government COVID-19 guidance
T
o ensure that delegates and staff are following the government's guidelines of social distancing we are enforcing rules in our Wigan venue. We are limiting delegate numbers on classroom courses and the total amount of people in the building. 3B staff will encourage everyone who is entering the building to follow social distancing guidelines. We have even provided markings on the floor to help people. We have also provided one-way walkways with arrows that show the delegates where to go. Only one person is to enter the toilets at a time; this applies to the staff kitchen.
Where people cannot be 1m apart, manage transmission risk
Face coverings are made available to anyone who enters the building if they wish to wear one, we have limited the number of staff, delegates & tutors in the building and all are encouraged to hand sanitise and also wash their hands regularly.