6 Steps To A Healthy Mental Wellbeing
Wellbeing can be both mental and physical, and they are both as important as one another.
Looking after your mental wellbeing plays an important role in reducing the risks of mental health issues. This can be done by recognising when we are struggling or feeling stressed and using suitable coping mechanisms to handle it.
Take a look below at some ways to help you look after your mental wellbeing.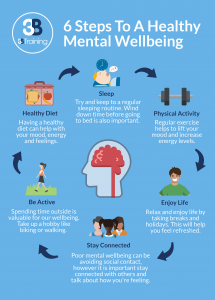 Get enough sleep
Sticking to a regular sleeping routine is important for your mental wellbeing, as well as having winding downtime before going to bed.
Participate in regular physical activity
Doing regular physical activity will help towards lifting your mood and increasing your energy levels.
Enjoy life
It is important to relax and enjoy life by taking breaks and holidays, without feeling guilty that you aren't at work. Doing this will help you to feel refreshed and ready to get back working.
Stay connected with family and friends 
If you are struggling with your mental wellbeing, you may find yourself avoiding all social contact. However, when you are feeling this way, it is important to stay connected with your friends, family and colleagues and talking to someone about how you're feeling rather than keeping it all in.
Be active
Spending time outside is extremely valuable for your wellbeing. You can enjoy this by taking up a hobby such as biking or walking in your local park.
Have a healthy diet 
The type of diet you have can reflect your mood, energy and feelings. Therefore having a healthy diet can help you to feel more positive.
Recognising the Characteristics of Stress
There can be times when we start to accept stress as normality as it can occur so frequently in our everyday lives. Take a look here at what the characteristics are of someone who may be experiencing high levels of stress.
Back to News
View Our Courses