AED (Defibrillator) and CPR Training
What is an AED?
An Automated External Defibrillator (or AED) is an electronic portable apparatus used in first aid. The device is used as an automated diagnosis to heart-related incidents. The administration of electrical therapy allows the heart to re-establish a stable rhythm.
The device would normally contain a face shield so that you can also apply CPR. It would also contain rubber gloves, trauma shears, and a razor to shave really hairy chests.
Where can I find a defibrillator in the case of an emergency?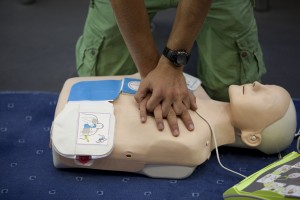 Automated external defibrillators are usually held by a trained first aider at a public event. AED's can also be found in public access units in most public places. They will always be placed in an area in which a lot of people are likely to gather. In largely congested buildings like office blocks, an AED would be in the elevator. It would be placed there so it can easily be transported around the building and save critical time.
To make them highly visible an AED unit will be brightly coloured (normally red or green). When the unit is open a buzzer or alarm will notify nearby staff to call emergency services.
AED Training
Training in how to use the machine can be very beneficial. For those who live with people with existing heart problems, attending AED training would mean you could have one at home in case of emergencies. As the popularity of the training has grown prices have fallen to a level that is affordable.
AED's are made to be as simple as possible to use. An AED training course will teach you how to follow the simple visual and audio commands. The course is essential in providing the delegates with the confidence to deal with an emergency.
It also helps to have some form of CPR training alongside the skills you have learned. CPR skills can be obtained from the Emergency First Aid or First Aid at Work course.
What is CPR and how is it different?
Cardiopulmonary Resuscitation, or CPR to you and I, is a procedure performed during an emergency cardiac arrest. CPR is conducted as an effort to physically conserve brain activity until further measures can be conducted.
CPR involves the rescuer personally exhaling into the person's lungs, unlike an AED which is a machine. You will also have to compress the subjects' chest to create artificial respiration. CPR isn't likely to restart the heart, unlike a defibrillator. The purpose of the procedure is to promote blood flow to the brain and heart until an ambulance arrives.
For more information on AED Training or any other First Aid Course visit the First Aid section of our website.
What do I Need in my First Aid Kit?
Take a look at our guide on how to correctly stock your company first aid kit here.
Back to News
View Our Courses