Body Image & Self-Esteem: Building Positivity
Body Image is the theme for this year's Mental Health Awareness Week.
But, what defines 'body image'? It is simply how we see our physical self and what we think and how we feel about that. These feelings can be positive, negative or even a mix of both.
Take a look below at some simple ways that can help build body positivity and self-esteem.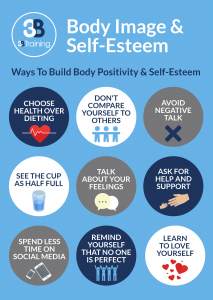 How does body image affect your self-esteem?
Body perception and self-esteem are connected as they both influence one another. Together, they may impact your mental health, whether that may be in a positive or negative way.
If you are unhappy with the way you look, then it will be hard to feel good about yourself and if you don't feel good about yourself, then it will be difficult for you to notice the positives about the way you look. It works both ways. 
Take a look at some eye-opening body image statistics provided by the Mental Health Foundation with YouGov:
1 in 5 adults in the UK have felt shame because of their body image in the last year
1 in 5 adults in the UK said that images on social media caused them to worry about their body image
Over a third of adults in the UK have felt depressed or anxious because of concerns about their body image
Ways to build body positivity and self-esteem
Focus on your health over dieting
Stop comparing yourself to others and remember images you see on social media aren't reality
Avoid negative talk by seeing the cup as half full and focusing on the positives
Talk about how you are feeling to those who you can trust
If you need help and support then don't be afraid to ask for it
Remind yourself that no one is perfect
Learn to love yourself as you are
How to Recognise the Signs of Anxiety
If you can spot the signs of anxiety in others or yourself early, then you may be able to help yourself of the person experiencing anxiety. Find out more about the signs of anxiety here.
Back to News
View Our Courses