What Happens on a First Aid at Work Course?
So you're thinking about attending a Three Day First aid at Work course but not sure what the course actually covers?
Over the duration, the three-day first aid course features both classroom-based learning and practical demonstrations and role-plays, covering a range of topics.
Day 1
Introductions.
What is First Aid?
The roles and responsibilities of a First Aider.
Group exercises and practical demonstrations.
What to do when you arrive at a scene.
How to assess a casualty's injuries.
Conducting a head to toe survey.
How to deal with an unresponsive casualty.
Performing effective CPR.
How to use a defibrillator.
Placing a casualty in the recovery position.
Day 2
The respiratory system.
Choking.
Wounds & bleeding.
Shock.
Seizures.
Minor burns & scalds.
Fractures & dislocations.
Head and spinal injuries.
Group exercises and practical demonstrations.
Basic bandaging techniques.
Bandaging an embedding object.
Bandaging a head injury.
Slings and arm support.
How to administer the log roll for spinal injury victims.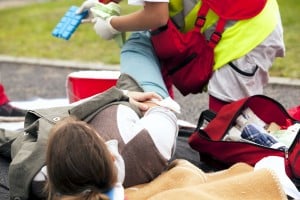 Day 3
Chest injuries.
Heart attacks.
Strokes.
Diabetes.
Poisons.
Crush injuries.
Hypothermia.
Heat stroke.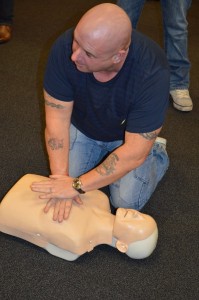 Practical Exam
An informal assessment to observe you can carry out the procedures learnt throughout the last day of the three-day course.
Written Exam
Fourteen questions that test your first aid knowledge and show the trainer you can safely administer first aid in a medical emergency.
The course is a fun interactive three days that provides you with the knowledge and confidence to respond to any incident within the workplace.
We provide the First Aid at Work course nationwide. We provide the course in Wigan, Liverpool, Leeds, Sheffield, Hull, Derby, Watford and Manchester as well as, an in-house course. If you would like to arrange First Aid training at a venue of your choice please contact us here.
Book the First Aid at Work course now, by visiting our course page here.
Back to News
View Our Courses