Fire Causing Habits Common in the Home
Fire causing habits can lead to serious incidents in the home. 
The thought of a fire happening in your own home is frightful and that is why you need to do all you can to prevent this from happening.
You may have unintentionally got yourself into a few bad habits around the home that could potentially be fatal. Take a look below at some common fire causing habits.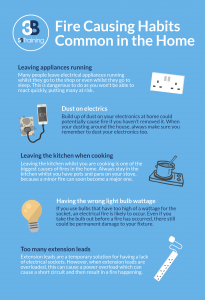 Leaving appliances running
Many people leave electrical appliances running whilst they go to the shop or even whilst they go to sleep. This is dangerous to do as you won't be able to react quickly, putting many at risk.
Dust on electronics
If there is dust build up on your electronics in your home; they could potentially catch fire if you haven't removed it. When your dusting around the house, always make sure you remember to dust your electronics too.
Leaving the kitchen when cooking
Leaving the kitchen whilst you are cooking is one of the biggest causes of fires in the home. Always stay in the kitchen whilst you have pots and pans on your stove because a minor fire can soon become a major one.
Having the wrong light bulb wattage
If you use bulbs that have too high of a wattage for the socket, an electrical fire is likely to occur. Even if you take the bulb out before a fire has occurred, there still could be permanent damage to your fixture.
Too many extension leads
Extension leads are a temporary solution for having a lack of electrical sockets. However, when extension leads are overloaded, this can cause a power overload which can cause a short circuit and then result in a fire happening.
Health and Safety at Home: Gas Safety
When it comes to gas safety, it's important you don't cut any corners. Find out about the guidelines you should follow here.
Back to News
View Our Courses