Ingredients For A Healthy Heart
The benefits of a healthy heart are worth the efforts that it takes.
There are a number of ways for you to do this. Take a look at the ingredients for a healthy heart below.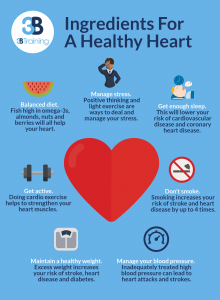 Have a balanced diet 
Eating almonds, nuts,  fish that is high in omega-3s and berries such as cranberries, strawberries and blueberries will all help your heart.
Manage any stress
Being stressed can affect factors that increase the risk of heart disease. Some may handle stress by drinking too much or smoking cigarettes, but these behaviours can increase your blood pressure. Try positive thinking and light exercise as a way to manage your stress.
Get enough sleep
By getting enough good quality sleep, you will lower your risk of cardiovascular disease and coronary heart disease too.
Don't smoke
If you smoke, quitting is one of the best things you can do for the health of your heart. If not, you are increasing your risk of cardiovascular disease. These include coronary heart disease and stroke.
Manage your blood pressure 
Inadequately treated high blood pressure is likely to lead to heart attacks and strokes.
Maintain a healthy weight
Having excess weight will increase your risk of stroke, heart disease and diabetes.
Get active
Getting involved with cardio exercise will help to strengthen your heart muscles and blood vessels, as well as lower your blood pressure and cholesterol. It will also improve the flow of oxygen throughout your body and reduce the risk of diabetes and heart disease.
Back to News
View Our Courses