Inhouse Courses with 3B Training
What are the benefits of inhouse training?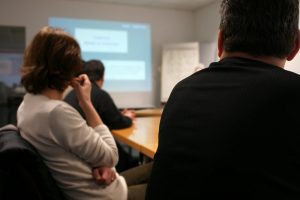 Inhouse training is an excellent way of getting exactly what you want from a training course. Choosing the right open course for your employees can be difficult sometimes. If a certain course doesn't cover everything you need, you may find that you are booking on several more to get what you want.
Inhouse training is very flexible; it can be delivered both internally and externally and its content can be tailored specifically to your business. 3B Training work with a range of trainers and training partners to make sure you get the information you need. These training professionals will know how to get the best out of your employees during the course and will ensure that they are competent before they leave.
Open courses can be expensive if you are booking training for multiple individuals. Inhouse training can be delivered as an all-in cost and usually works out cheaper. If you are sending multiple employees on training at once in-house training onsite will cut the cost of travel, which is always a winner.
What in-house courses does 3B Training deliver?
3B Training offers a range of accredited and 3B certified training courses on an in-house basis. Take a look below at the courses available.
Accredited courses
Courses that are accredited by a training body cannot have their content altered due to the accreditation scheme rules. Although this is the case, these courses can be organised specifically for your business both at a 3B Training centre or a site of your choosing. It is a great way to train all your workforce at once.
Available courses:
3B Training accredited courses
These courses are much more flexible in terms of content and duration. If discussed beforehand 3B will be able to alter the content to suit what you are looking for.
Available courses:
What eLearning Courses are Available?
Take a look at the range of eLearning courses that we offer as an alternative to classroom learning here.
Back to News
View Our Courses