Abrasive Wheels Awareness Training Course
Abrasive Wheels Awareness is an online training course that provides you with the theoretical knowledge to safely use and inspect an abrasive wheel. In addition, you will understand the necessary precautions you need to take before using a cutting or grinding wheel; this will allow you to reduce the risk of an accident and work with legislation.
Become qualified in just three hours.
Work safely and understand legal requirements.
You can complete this course online.
You can complete the course from home.
We can deliver it as an in-house course.
Valid for three years.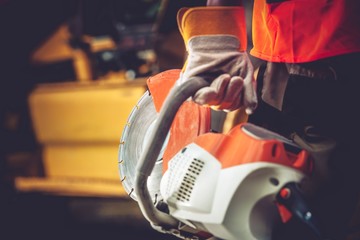 Abrasive Wheels Awareness course content
What does the Abrasive Wheels Awareness course cover?
The awareness course is designed to meet the training requirements of Provision and Use of Work Equipment Regulations 1998 (PUWER 98). The course covers the following subjects.
The need to train on an abrasive wheel and the statutory requirements
Characteristics of an abrasive wheel and the types of wheel available
Wheel speed
Hazards and precautions to control them
Personal Protective Equipment (PPE)
Storage & handling
Inspection and methods of testing for damage
Abrasive wheel machine components
Guarding
Dressing & balancing
Specific mounting procedures
Please note that this course does not contain any practical content on inspecting, storing and mounting abrasive wheels.
Course Objectives
Upon completing the course, you will have a greater knowledge of the legal requirements of safely using an abrasive wheel. You will also have theoretical knowledge of wheel inspection and PPE selection.
What is Required to Pass the Abrasive Wheels Awareness Course?
The tutor will monitor your involvement and understanding throughout the training. At the end of the course, you will complete a 20 question multiple-choice assessment paper.
How long is the Abrasive Wheels Awareness course?
This training course is around three hours long.
During the three hours, you will gain all the relevant knowledge you need. The course duration helps you to remain engaged and only covers the content that you need to know.
Not only that, but you can qualify quickly, with little time spent away from work.
Why should I attend this course?
People who need health & safety knowledge of using abrasive wheels or other grinding and cutting tools should attend this course.
Abrasive Wheels training is a legal requirement under PUWER 98. You must be compliant before operating an abrasive or grinding wheel.
Not only is it a legal requirement, but the course is also designed to keep you safe. If you are not aware of the relevant precautions before using abrasive wheels, you are putting yourself at risk of an accident. The most common accidents include the wheel breaking or you coming in contact with the wheel.
Abrasive Wheels Awareness entry requirements
There are no formal pre-course requirements for Abrasive Wheels Awareness.
Although to attend the Remote Learning course.
You must have access to a computer or laptop that uses a microphone and webcam and has access to the internet.
We also ask that you have a good understanding of spoken and written English. 
We want you to get the most out of your training. Without understanding the content, you put yourself and others in danger when operating abrasive and grinding wheels.
Is this course accredited?
Yes,  3B Training are the accreditors of this course.
Providing quality training is part of our ethos. Our quality and course team work hard on our short courses to ensure that our course content is of the highest standard.
Where can I complete this course?
This course is available to attend online or in the classroom as an in-house course.
Remote Learning
Abrasive Wheels Awareness training is available to attend online via Remote Learning.  The online learning course allows you to complete their training from home and eliminate the time and monetary cost of travelling to a classroom-based course.
To access the course, you must log in to the virtual classroom through a link. All required is a computer or laptop with a camera, microphone and access to the internet. Like the classroom version, the tutor delivers the course to a group of delegates. The theory content is the same as the classroom-based course, and you will still be able to interact with the tutor and other attendees through their microphone or the chatbox. All course materials are accessible in PDF format, and you will complete the exam electronically.
In-house Courses
Whether the course is delivered in the classroom or through remote learning, we can arrange for the course to be delivered in-house.  In-house training, specifically for companies, is a popular option for our clients who want to have a group of their staff trained all at once. In addition, the in-house format allows delegates to discuss their companies processes and procedures throughout the course.
Each in-house quote is provided on a case-by-case basis depending on location, delivery type and delegate numbers. To enquire, fill out the in-house enquiry form on this page.
Public Classroom Courses
For more information on the classroom version of this course covering practical elements, visit our Abrasive Wheels page here.
Further development
You will receive a certificate 6-8 weeks after course completion.
You must renew your Abrasive Wheels Awareness certificate after three years of completion. To restore the certificate, you must attend the course again.
The following steps would be to complete a course that contains the practical elements of abrasive wheels that don't feature on the online course.
Working with cutting and grinding tools can be dangerous; you may also want to protect yourself and others by completing Face Fit Testing (to be correctly fitted with RPE) and the First Aid at Work course (in case of an emergency that requires first aid attention).
NEXT AVAILABLE COURSES
Next Available Courses
Sorry, there are no courses available at the present time.
Can't see the course date or location you are looking for?
VIEW MORE COURSES