AED Training
The AED and Basic Life Support training course focuses on teaching you how to use an Automated External Defibrillator machine when applying first aid. The skills learned from this course can be used inside and outside of the workplace in the case of an emergency.
Learn life-saving skills.
Can be delivered in-company.
Can be made bespoke.
Half-day of training.
Practical elements included.
Highfield or 3B Training accredited.
Valid for three years.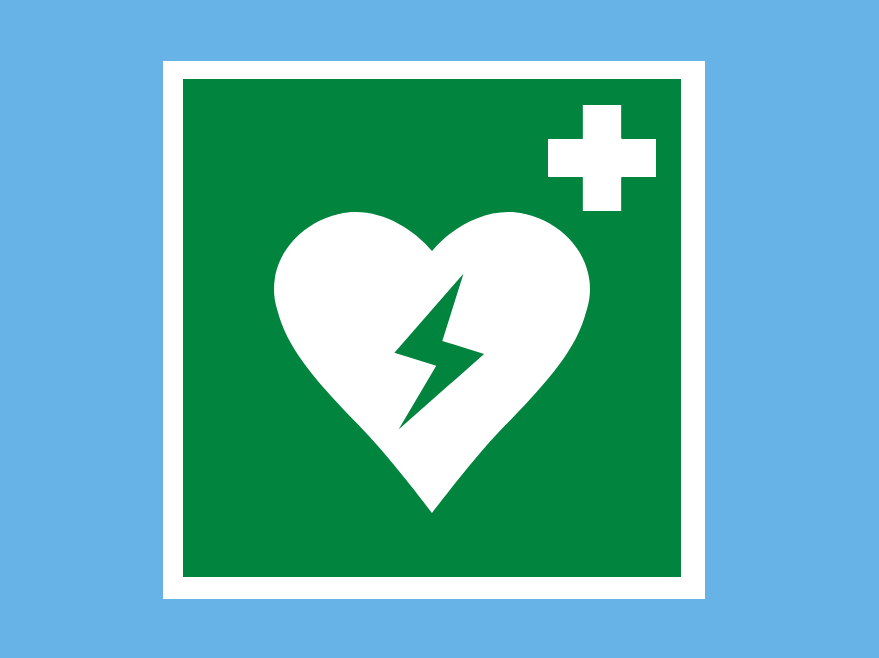 AED Training course content
The content covered in the AED training course includes both classroom and practical learning. You will be able to get hands-on with operating the defibrillator to help you understand how to apply it properly and safely. This will be accompanied by classroom theory relating to using the machine and applying first aid. 
The tutor will cover the below subjects throughout the course:
How does CPR work? How conducting CPR can help to preserve a casualty until the emergency services arrive.
How to keep the casualty and rescuers safe; the steps you need to take as a first aider to ensure that you are administering in a safe environment.
How the AED works;  when to deliver the first shock, and procedures during the AED process.
First aid skills; Dealing with an unconscious casualty, recognising irregular breathing, and recognising heart rhythms.
Recording and reporting information about the accident;  the steps that you need to follow when an accident occurs in the workplace.
Handing the casualty over to the emergency services; giving the emergency services all the information they need to be able to attend to the casualty.
Assessment: To pass the course, you must show an understanding of the course content and be able to demonstrate your practical skills during the demonstrations.
How long is the AED Training course?
The AED course is delivered over half a day (approx. 4 hours).
However, due to the nature of the course, the content can be easily moulded into a longer in-house course. The course can be made bespoke to your company, using industry-specific examples and content.
Why should I take this course?
People who need to know how to use an AED but do not have an official first aid qualification should attend this course.
The course can give you the tools to be able to deal with a casualty in an emergency when a defibrillator is needed. You will also be able to transfer these skills into every day and potentially save somebody's life.
The course may cover a serious subject, but the training is highly social and interactive. You will be able to discuss with the delegates and tutor throughout and take part in group activities.
AED Training entry requirements
There are no formal entry requirements for this course.
Although, we ask that the delegate has a good understanding of written and spoken English. We want you to get the most out of the training and be able to operate a defibrillator safely. Without being able to understand the content fully, you are potentially putting others at risk if you decide to help in an emergency.
Is this course accredited?
This course can be accredited by Highfield Qualifications or delivered under 3B Training's own accreditation. The Highfield version will be delivered under their course syllabus, whereas 3B Training can make the course bespoke for the customer and industry.
Where can I take this course?
This course can be delivered in the classroom as an in-house course.
In-house Courses
We can arrange AED Training as an in-house course specifically for your company. If you have a group of individuals who all need to be trained in using an AED, this course is perfect for you. Because the course is only half a day, your employees will all be trained quickly without spending too much time away from work. We can deliver this course at a 3B Training venue or a location of your choice.
If you would like us to provide you with a quote for in-house training, complete the contact form on this page. We will take into consideration location, delegate numbers attending and any equipment requirements when providing our quote.
Further development
On completion of the course, you will receive a certificate. The AED Training certificate needs to be renewed three-years after completion of the course.
The next progression step would be to become a First Aider; to do so, you must attend the First Aid at Work course. This course will allow you to be the appointed person for your organisation and one of the people they turn to in the event of an emergency. You will also have control over first aid supplies and procedures.
The Paediatric First Aid is a course for those predominantly work with children in their occupation. The course will give you a more focused knowledge of child first aid. This is a course that could be vital at work or home if you have children.