Level 3 Award in Education and Training – AET (formerly PTLLS)
Teacher Training Courses – Level 3 Award in Education and Training (AET)
The AET training course is an introduction to teaching. The aim of the course is to give you an understanding of how education and training work.
Course length:
Five day
Who is it for:
The course is designed for those who DO NOT have any teaching experience
Course Content
On completion of the course the delegate will have a further understanding of the following:
Their personal roles and responsibilities
The confines they can reach with the qualification
The teaching methods they should use within their specific area
Display their ability to plan, conduct, monitor and evaluate a micro-teaching session
How to motivate and interact with learners
The different varieties of learning approaches
Internal and external verification
This qualification can also be completed as a competency-based qualification. Find out more here.
What is Required to Pass the AET Course?
The course is a theory based course delivered in a classroom. It is made up of a range of videos, discussions, quizzes and scenarios.
The course is assessed by an essay based assignment. You will also receive guidance notes to point you in the right direction. You will also be required to conduct a short micro-teaching session. The subject of the session can be any topic of your choosing.
You cannot fail the AET course. Instead, you will be given pointers by your tutor on how to improve the next time you deliver a session. You will just be referred to another session in which you will aim to improve on your last.
Entry Requirements
You must be above the age of nineteen and have a good grasp of written and spoken English. It is also advised that you have a good background knowledge of the course you are looking to teach.
Further Development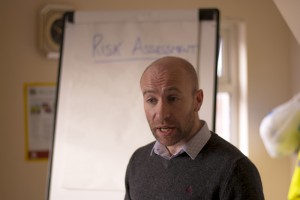 It is advised for future progression that you look into attending a level 4-5 course. An Award in Planning and Delivering Training Session or Award for Learning Support Practitioners would also be a suggested route to take.
Course Locations
You can book an AET course at the following locations:
Watford, Doncaster, Derby and Wigan.
Contact Us Today
To arrange a training course, if you have any further questions, or if you would like to speak to one of the 3B Training specialists, don't hesitate to get in touch or email us via [email protected]. If you are considering any further training, you can book a course here or find out more about our other courses.
Classroom Courses or eLearning: Which Course Method Is Right for Me?
Both classroom training and eLearning courses are well tested and effective methods of training. Take a look at the pros and cons of each to help fathom which one suits you the best. Read more here.