Appreciation of Excavation Safety
Construction & Utility Courses – EUSR Appreciation of Excavation Safety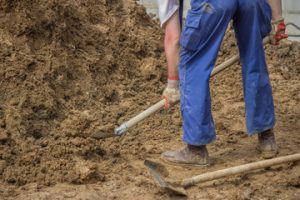 The EUSR Appreciation of Excavation Safety course looks to raise awareness of the dangers of deep excavation and how to stay safe on site.
Course length:
One day
Who is it for:
Supervisors, Managers, Safety Managers and Operatives who work around excavations.
Course Objectives
By the end of the course, delegates will:
Be able to understand why excavations need to be supported and how they can fail if they are not.
Evaluate various installation methods and design types.
Leave with the relevant knowledge of the related legislation surrounding excavations.
Have a greater knowledge of General shoring principles and types of proprietary shoring equipment.
Have a better understanding of the risks of excavation and how to avoid them.
Recognise bad practice.
Be able to write a Temporary Works design brief.
Course Content
The EUSR Appreciation of Excavation Safety course will cover various legislation that is highly relevant to the role of working with excavation. Legislation includes:
Health & Safety at Work Act
Provision and use of Work Equipment Regulations
Lifting Operations & Lifting Equipment Regulations
Personal Protective Equipment at Work Regulations
Noise at Work
Management of Health and Safety at Work
CDM
Confined Spaces
COSHH
Working at Height
Manual Handling Operations
Entry Requirements
There are no formal entry requirements for the course although, delegates need a good understanding of spoken and written English.
Further Development
On completion of the course, delegates will receive an EUSR accredited card an certificate that is valid for 3 years. The next step in excavation training is the EUSR Install, Inspect & Remove courses, take a look at the courses available here:
Timber Shoring Sytems (Category 3)
Steel Shoring Systems (Category 4)
Proprietary Shoring Sytems (Category 5)
Contact Us Today
To arrange a training course, if you have any further questions, or if you would like to speak to one of the 3B Training specialists, don't hesitate to get in touch. You can also email us via training@3btraining.com. If you are considering any further training, you can book a course here or find out more about our other courses.
On-Site Job Roles in The Construction Industry
Are you looking for a job in the construction sector but would like to explore your options? Take a look at some onsite construction career paths you could potentially pursue here.