COVID-19 Secure For Retail eLearning Course
The COVID-19 Secure For Retail eLearning course gives confidence to retail staff returning to work during these difficult times. The course will cover processes that will make a retail environment safer and give you the knowledge to follow them.
Highfield accredited.
You can complete the course entirely online.
Self-paced learning.
Improve your safety when returning to work.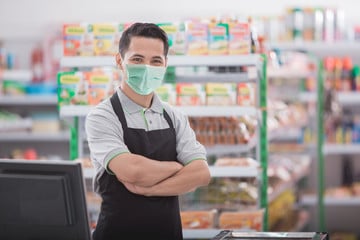 COVID-19 Secure For Retail eLearning course content
When you book an eLearning course with 3B Training, you will be sent an email containing your login information. This information will allow you to log into the eLearning portal to access your course.
The Highfield online course is delivered through a range of interactive exercises, imagery and knowledge checks. You will cover the below subjects:
Best practices when working with customers and being alert in your working environment.
Regularly cleaning touchpoints and safely handling goods.
Maintaining social distancing in the fitting room and cleaning important areas.
Handling money when unavoidable and encouraging contactless payment.
Keeping points of sale uncontaminated and avoiding unnecessary contact.
Maintaining social distancing whilst managing queries.
At the end of each section, you will be assessed with multiple-choice questions—each question designed to test your understanding of the unit you are completing.
How long is a COVID-19 Secure For Retail eLearning course?
You can complete the course in just an hour on average. The course can be quickly, therefore assisting productivity.
Although this is the case, you can stagger your progress if you wish so that you can fit it around your schedule.
Why should I take this course?
Retail employees who return to work should use this course if they have concerns about returning to work.
If you are returning from furlough or working from home, this course will help you feel more protected back into a retail environment. The course will go over subjects such as infection control and safety protocol within your daily duties.
COVID-19 Secure For Retail eLearning course entry requirements
To access the eLearning course, you must log in whilst connected to the internet through a device with a screen and speakers. If you do not have access to speakers, headphones will also be sufficient.
We recommend that you access the course via a desktop or tablet, rather than a mobile phone. We cannot guarantee all phone are compatible.
Is this course accredited?
Yes, this course is accredited by Highfield eLearning.
Highfield offers an exceptional eLearning experience to learners nationwide. Their courses are compelling, engaging and simple to follow.
Where can I complete this course?
eLearning Courses
You can access eLearning courses online anywhere at any time. You can complete your course at home, at work or even on public transport. The self-paced format removes the restrictions of having to attend the course at a specific time, at a specific place.
To book this course, you can buy your license online via our website or inquire through the contact form on this page. Once you have completed the contact form, the team will be in touch to address your enquiry.
Further development
Check out our full range of COVID-19 Secure eLearning courses here.
We also have a range of other eLearning courses designed to develop your skills in a retail environment.
The Managing Conflict eLearning course will help to develop your skills in managing workplace conflict. Whether that be customers or staff, the course will help you to do this professionally and safely.
Communication eLearning will increase your understanding of the importance of workplace communication. The skills learned are transferable to many environments, including retail.
NEXT AVAILABLE COURSES
Buy This Course
COVID-19 Secure For Retail eLearning

eLearning - 03 Jun 2030

£15 + VAT
Are you interested in other eLearning Courses?
VIEW MORE COURSES