Deep Excavation
Other Training Courses – Deep Excavation Training
Overview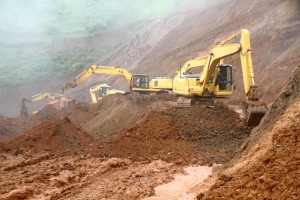 During deep excavation digging shafts and trenches is a dangerous task on site. This course is devised to allow delegates to gain knowledge on how to stay safe and what techniques to apply, in line with current legislation.
Course Content
The Deep Excavation course will cover how to deal with problems caused by the weather and different types of terrain. As well as how to work to the relevant safety regulations. And the erection of trench sheets, timbers and shafts.
The course will cover the following topics:.
Explain appropriate safety requirements and regulations connected to the support of excavations.
Identify the hazards and carry out control measures for them.
Recognise the characteristics of principle soil types and its associated dangers.
Implement risk assessments on deep excavation.
Apply your ability to use basic tools and equipment for setting up shoring.
Remove support systems in the correct order.
Understanding emergency procedures.
Executing the work safely.
80% of this course is a hands on practical assessment and the rest will be classroom based.
Suitable Delegates
You will need a reasonable level of maneuverability and the ability to lift and move medium to heavy loads. You will also need a good understanding of spoken and written English. The course is  designed for ground workers  and similar operatives.
Further Development
Delegates will be able to establish different ground types and understand the various processes and selections of ground retention systems. As well as identifying the hazards surrounding excavation and bringing in control methods to reduce them. You will be able to independently build a shaft retention system with the use of steel trench sheets and timber wailing's. (up to 3m deep).
If you would like to enquire about booking a Deep Excavation course or would like some further information about the course contact us here.