Display Screen Equipment (DSE): eLearning Course
Display Screen Equipment eLearning course will ensure that you set out your workstation correctly to prevent eye strain and postural issues. Learn the steps you must take to assess your workstation so that you can sit as comfortably as possible. The knowledge you gain will help to reduce work absences and keep you safe.
Highfield accredited.
Become qualified in just 30 minutes.
It is delivered entirely online.
A self-paced course that is highly accessible.
Valid for three years.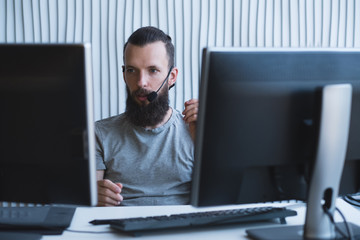 Display Screen Equipment eLearning course content
Once you have booked your eLearning course, the LMS will send you your login information to your provided email address. When you begin your course, you will have up to 12 months to complete it before your license expires.
The Highfield online course is delivered through a range of real-life scenarios that will help to increase their knowledge of DSE. In addition, the course will assess the learner at the end of the course with multiple-choice questions.
The course covers the below subjects:
What is DSE?
The health risks of DSE
Designing your workstation
Correct working position for DSE
Portable equipment
Safe working practices and identifying risks
Eyewear and eye tests
Assessing Display Screen Equipment
Assessment
You will be assessed at the end of the course through a series of multiple-choice questions.
How long is the Display Screen Equipment eLearning course?
This course takes around 20 – 40 minutes to complete. The course can be completed at work or home easily, without interfering with proactivity.
Why should I take this course?
Employees or managers who work with display screens, laptops or touchscreens should take this course. The course is also ideal as part of a new staff induction programme.
Display screen equipment or DSE is used regularly by workers across the country. However, without the relevant knowledge, you don't know the potential health problems they can cause. Headaches, postural issues, repetitive strain injuries and eye strain can all come from DSE use. With the steps that you will learn in this course, you can help to prevent them.
Display Screen Equipment (DSE): eLearning course entry requirements
There are no formal entry requirements for this course. 
However, to complete the online course. 
You must have access to the internet via laptops, computers, or tablets. Mobile phones are not a suitable device for this course.
Is this course accredited?
This course is a Highfield Qualifications accredited programme. Highfield creates highly engaging and easy to digest online courses for its learners. Experts write the content in each field which adds value to the training.
Where can I complete this course?
his course is only available to book online through our eLearning platform.
eLearning Courses
As long as you have an internet connection, you can access this course from anywhere, whenever you need to.
To book an eLearning course, you can book directly online or complete the enquiry form available on this page. Your enquiry will be picked up by one of the 3B team, who will be in touch. You can also enquire about bulk licence orders through this page.
Further Development
Once you have successfully passed the training, your e-certificate will be available to download instantly. Your qualification is valid for three years and must be renewed by completing the training again.
We offer a range of courses designed to help keep yourself and the workplace safer. Many of these courses are ideal for all staff to complete as part of an induction or group training programme.
NEXT AVAILABLE COURSES
Buy This Course
Display Screen Equipment eLearning

eLearning - 02 Jan 2030

£15 + VAT
Are you interested in other eLearning Courses?
VIEW MORE COURSES