Equality and Diversity eLearning Course
Equality & Diversity eLearning course educates you on what equality & diversity is and why inclusion is vital in the workplace. Such as the consequences of equality and the law surrounding it. The knowledge you gain will equip you with the tools to promote a more equal and inclusive working environment.
Highfield accredited
It is delivered entirely online.
eLearning is a self-paced course format that is highly accessible.
Gain essential and relevant knowledge.
Valid for three years.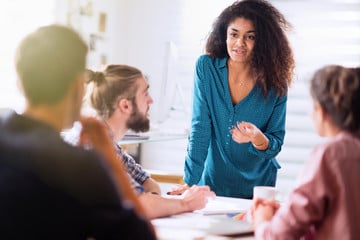 Equality & Diversity eLearning course content
Equality & Diversity is available on our eLearning LMS platform. Upon booking, we will send you your login details so that you can access the course. You will have up to a year to complete the training before your license expires.
The Highfield training course contains a range of real-life scenarios that will help to increase your knowledge of the subject.
The course covers:
What does the term equality and diversity mean?
The consequences of inequality
Human rights
Exclusive and inclusive models of society
The Equality Act
The promotion of inclusion
Creating a fairer workplace
Assessment
The course ends with a multiple-choice exam; this will check that you have gained the relevant knowledge to pass the training.
How long is the Equality and Diversity eLearning course?
The course takes typically around 20-40 minutes to complete.
The short duration allows you to quickly and efficiently complete the course without affecting your busy schedule.
Why should I take this course?
Individuals and organisations must work together to create an inclusive and equal working environment. By appearing as a discriminatory business, you are putting yourself at risk of upsetting your staff, getting bad press and potentially HR issues.
Equality and Diversity can create a positive working culture with high morale that makes your business look great from the outside and within.
The course is relevant to employees from the top to the bottom of a business. It is a great course to use when onboarding new starts to understand your company's culture.
Equality and Diversity eLearning entry requirements
There is no prior knowledge needed to complete this course.
To access the course.
You will need to connect to the internet and log in via a computer, laptop or tablet. Although we do not recommend that you log in with a mobile phone, we cannot guarantee that your device will be compatible.
Is this course accredited?
Yes, this course is accredited by Highfield Qualifications.
Their content is written by industry experts and is used globally by businesses and individuals alike.
Where can I complete this course?
This course is only available through our eLearning platform.
eLearning Courses
eLearning courses are highly accessible. As long as you can connect to the internet, you can complete the course anywhere at any time.
To book an eLearning course, you can book directly online or complete the enquiry form available on this page. Your enquiry will be picked up by one of the 3B team, who will be in touch.
Please take a look at all of the eLearning courses we have available here.
Once you have booked, you will receive an email with your login details. You then have 12 months to complete the course before your license expires.
Further Development
When you have completed the course, your certificate will be able to download from the platform instantly. The qualification is valid for three years before you must renew it. After that, to continue the qualification, you must re-sit the course.
We have a range of other online courses that will help to develop you and your company. Please take a look at the other eLearning Courses we have available here.
NEXT AVAILABLE COURSES
Buy This Course
Equality & Diversity eLearning

eLearning - 02 Jan 2030

£15 + VAT
Are you interested in other eLearning Courses?
VIEW MORE COURSES