Fire Safety Training Level 2 eLearning Course
Fire Safety Level 2 is an online course designed to educate you about occupational fire safety. Once you understand the risks of fire, you can assist in preventing them in the workplace. In addition, the course is ideal for refreshing the knowledge of existing holders of the Fire Warden certificate.
Highfield and CPD accredited.
Available completely online.
A flexible course that you can complete in your own time.
A cost-effective alternative to classroom training.
Gain vital health & safety knowledge.
Valid for three years.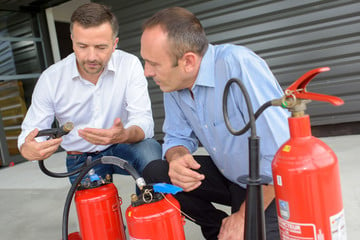 Fire Safety Level 2 eLearning course content
This course is delivered through our eLearning platform. The course consists of a series of interactive slideshow and activities.
You will receive an email once you have booked your course with your login details. You will then have a year to complete the course before the expiry of your license.
The Fire Safety Level 2 Highfield training course has four training modules.
The online modules include the below subjects:
An introduction to fire safety
The characteristics of fire
Managing and monitoring risks
Fire safety legislation
Assessment
To pass the course, you will need to answer a selection of multiple-choice questions sufficiently.
How long is a Fire Safety Level 2 eLearning course?
The course typically takes 2-3 hours to complete. The eLearning course is a less time-consuming option than a classroom Fire Warden course.
Although the duration times are similar, this course eliminates the time taken to travel to and from the training venue.
Why should I take this course?
Fire wardens, supervisors, managers, team leaders or any staff at risk of a potential fire should take this course. Everyone has responsibility for occupational fire safety.
With everyone in your organisation having basic fire safety training, there will be a company-wide understanding of preventing fire hazards. In addition, this course is ideal as part of an induction programme for new employees so that you know they have the required level of fire safety knowledge.
The eLearning format is also much more cost-effective compared to attending the course in the classroom. Not only is the course fee a fraction of the classroom price, but the extra expense is also spared from travel, parking and any potential accommodation you may need for the training.
Fire Safety Level 2 eLearning entry requirements
There are no formal prerequisites for the course.
To access the online course.
You must log in through a device with a screen and access the internet. Most desktops and tablets are compatible with the course; we do not recommend using your mobile phone. You may also require speakers or headphones for parts of the course.
Is this course accredited?
Highfield Qualifications accredits this course. They are a top 5 awarding body in the UK and are known for their quality courses with true value for money.
This course is also CPD accredited. You are entitled to 3 CPD points upon completion of the training.
Where can I complete this course?
This course is only available through our eLearning platform.
eLearning Courses
eLearning courses are highly accessible. As long as you can connect to the internet, you can complete the course anywhere at any time.
To book an eLearning course, you can book directly online or complete the enquiry form available on this page. One of the 3B team will be in touch to deal with your enquiry.
Please take a look at all of the eLearning courses we have available here.
Public Classroom Courses
Alternatively, if you prefer to train in the classroom and take part in some practical exercises, we also offer the Fire Warden course. This course will give you the knowledge and skills to be an appointed person in your company.  We can arrange this course as an in-house course at 3B or a site of your choice.
Remote Learning 
If you like to attend your training online but still like the interaction of delegates and a tutor, you may want to attend the Fire Awareness Training Course. This course is delivered in a virtual classroom to a group of delegates by a tutor. We can also provide this course as an in-house course.
Further Development
Once you have completed the course, you will be able to download your certificate. Your certificate is valid for three years. After three years, if you wish to renew, you must attend the course again.
The next step would be to complete the Fire Warden Course. Then, get yourself qualified to be an appointed Fire Warden. And, learn about fire prevention and improve your knowledge of extinguishers with a range of practical exercises.
NEXT AVAILABLE COURSES
Buy This Course
Fire Safety Level 2 eLearning

eLearning - 02 Jan 2030

£25 + VAT
Are you interested in other eLearning Courses?
VIEW MORE COURSES