Food Safety Level 1 eLearning Course
Food Safety Level 1 eLearning is an online training course for basic training in food safety. The course is an ideal induction into food safety for staff. You will learn about microbiological hazards, food poisoning and contamination, as well as the regular sanitation processes you should conduct. You will leave the course safely working with food and in line with the relevant legislation.
Highfield accredited
CPD accredited training
A mandatory requirement for food handlers.
You complete the course entirely online.
eLearning is a self-paced course format that is highly accessible.
Valid for three years.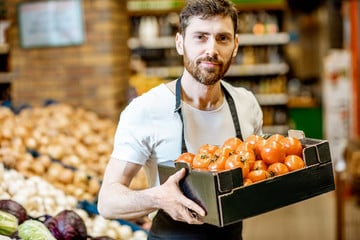 Food Safety Level 1 eLearning course content
Once you have booked the course, you will receive an email with your license login details. You have 12 months to complete the course before the expiry of your license.
This Highfield online course is delivered via our eLearning platform. The course contains a range of interactive slides and activities covering the key syllabus of RQF level 1 food safety qualifications.
The online course modules are as below:
An introduction to food safety
Microbiological hazards
Food poisoning and how to control it?
Contamination hazards and how to control them?
Safe storage and handling of food
Personal hygiene
Pest control and food pests
Disinfection and cleaning
Assessment
You will be assessed at the end of the course through a series of multiple-choice questions. You must score 100% to pass the course.
How long is the Food Safety Level 1 online course?
The course will take approximately between 2-3 hours to complete. The short duration is ideal if you wish to qualify without affecting productivity.
Although you can finish the course quickly, you don't have to. The course is self-paced and can be gradually completed unit by unit as it suits you.
Why should I take this course?
It is a legal requirement that businesses have their staff trained to the appropriate safety and hygiene training for their role. If you work in a catering environment but are not directly handling the food, this is the qualification for you. If you work with prepackaged food, this qualification will also be suitable for you.
Food safety and hygiene are just important for safety; it's also important for business and PR. Poor performance in this area is never far away from the news and social media. By being properly trained, you are protecting yourself and your business from the wrong type of publicity.
This course was written by Richard Sprenger, who is a world-renowned food safety expert and author. This assures that the course is made up of quality and useful content.
Food Safety Level 1 eLearning course entry requirements
There are no formal entry requirements for this course. 
Although to get the best out of your training, we recommend that you have a basic understanding of food safety.
To access the online course.
You must log in through a laptop, computer or tablet with access to the internet. You may also require speakers or headphones for parts of the training.
We do not recommend using a mobile phone for the training.
We cannot guarantee that the device will be compatible.
Is this course accredited?
This course is accredited by Highfield, the UK's leading organisation for regulated food safety qualifications. Highfield is known for its commitment to improving food safety standards.
Food Safety Level 1 is also CPD accredited training, entitling learners to 5 Continuing Professional Development points.
Where can I complete this course?
This course is only available to book online through our eLearning platform.
eLearning Courses
As long as you have an internet connection, you can access this course from anywhere, whenever you need to.
To book an eLearning course, you can book directly online or complete the enquiry form available on this page. Your enquiry will be picked up by one of the 3B team, who will be in touch.
In-house Courses
This course is also available as a classroom course if you would like us to deliver it as a bespoke course, especially for your company. The course can be arranged remotely, at a 3B training venue or a site of your choice. This format is ideal for clients who wish to train large amounts of their employees on the same course all at once.
You can contact one of our training advisors for a quote through our contact form on this page. Our quotes will vary depending on delegate numbers, course delivery format and location.
Further Development
On completion of the course, you will be able to download your certificate from the eLearning platform. The certificate will be valid for 3 years; once it expires, you must renew it by completing the course again.
If you are going to be involved in direct contact with food in your work, you will need t complete a higher-level course. For most food handlers, the Food Safety Level 2 eLearning is the appropriate level of qualification.
If you are a supervisor or manager, you will need to be trained in Food Safety Level 3 eLearning.
NEXT AVAILABLE COURSES
Buy This Course
Food Safety Level 1 eLearning

eLearning - 02 Jan 2030

£20 + VAT
Are you interested in other eLearning Courses?
VIEW MORE COURSES