Health and Safety Level 1 eLearning Course
Health and Safety Level 1 eLearning is an online training course used to improve occupational health and safety for staff. The course is ideal if you are new to a workplace and need an overview of essential health & safety. You will learn the critical modules of a level 1 qualification which make you aware of your health & safety responsibilities in the workplace and how to keep others safe.
Highfield and CPD accredited.
Available completely online.
A flexible course that you can complete in your own time.
This course is an excellent introduction to health and safety.
Valid for three years.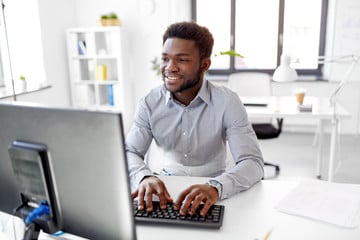 Health and Safety Level 1 eLearning course content
Once you have booked, you will receive an email with your login details; you then have 12 months to complete the course before your licence expires.
This course is delivered via our eLearning platform. The Highfield accredited online course covers the key factors of basic health and safety.
The course consists of 24 multiple choice questions which cover elements of the 8 modules.
The eLearning course covers the following topics:
Slips, trips and falls
Legal responsibility
COSHH hazardous substances
Occupational health, safety and welfare
Fire safety
First aid
Work equipment safety
Manual handling
Assessment
To pass the course, you must complete a series of multiple-choice knowledge check questions.
How long is a Health and Safety Level 1 eLearning course?
The eLearning course takes on average between 1-2 hours. Therefore, you can complete the course efficiently at home or in the workplace, with minimal effect on your productivity.
Alternatively, you can also stagger your training over time if it suits you better. The course is self-paced and saves your progression from where you last left the training.
Why should I take this course?
By supplying yourself or your staff with an essential awareness of health & safety, you are helping to reduce accidents in the workplace and the cost of workplace injuries to your business.
This course is a great tool to use for onboarding new staff; this will give them a good understanding of health and safety as soon as they join the company.
Health and Safety Level 1 eLearning entry requirements
There are no formal prerequisites for the course.
To access the online course.
You must log in through a device with a screen and access the internet. Most desktops and tablets are compatible with the course; we do not recommend using your mobile phone. You may also require speakers or headphones for parts of the course.
Is this course accredited?
Highfield Qualifications accredit this course. Highfield a nationally recognised awarding body, which is known for its quality and interactive online courses.
This course is also CPD accredited. You are entitled to 5 CPD points upon completion of the training.
Where can I complete this course?
This course is only available through our eLearning platform.
eLearning Courses
eLearning courses are highly accessible. As long as you can connect to the internet, you can complete the course anywhere at any time.
To book an eLearning course, you can book directly online or complete the enquiry form available on this page. One of the 3B team will be in touch to deal with your enquiry.
Please take a look at all of the eLearning courses we have available here.
Further Development
Once you have completed the course, you will be able to download your certificate instantly. The certificate has a lifespan of three years before you must renew it. To requalify, you must complete the course again.
For a more advanced course on workplace health and safety, you may want to complete the Health and Safety Level 2 eLearning course. Ideal if you are working in a more senior role and wish to understand it further.
If you'd like to learn more about the course modules in further detail, you can also attend the below training courses.
NEXT AVAILABLE COURSES
Buy This Course
Health and Safety Level 1 eLearning

eLearning - 02 Jan 2030

£20 + VAT
Are you interested in other eLearning Courses?
VIEW MORE COURSES