Introduction to Allergens eLearning Course
Introduction to Allergens eLearning is an interactive online course that gives you an insight into managing food allergens. Having this knowledge is crucial for all food handlers to work safely. In addition, the knowledge that you gain from this course can be applied in a working environment and will help protect those who suffer from allergies.
Highfield accredited.
Allergy UK accredited training.
This course is a mandatory requirement for food handlers.
You complete the course entirely online.
A self-paced course that is highly accessible.
Valid for three years.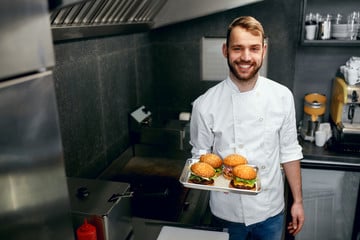 Introduction to Allergens eLearning course content
You will receive an email once you have booked your course with your login details. You will then have a year to complete the course before the expiry of your license.
Introduction to Allergens is delivered through Highfield's LMS. The course contains a range of interactive activities and scenarios that cover the importance of managing food allergens.
The course covers the below topics:
An introduction to food allergens
Coeliac disease, allergies and intolerances
Symptoms of allergic reactions and how to respond
Food labelling requirements
Allergens legislation
The 14 regulated allergens
"Free from" claims
The management of allergens from purchase to service
Providing the customer with allergen information
Assessment
To pass the course, you must complete a final multiple-choice assessment. You must score full marks to achieve your certificate.  You can resist the exam as many times as you need to pass.
How long is the Introduction to Allergens eLearning course?
The average completion time of the course is around 2 – 3 hours. You can complete the training quickly and productively if you need to.
Although, you can also complete the course at your own pace if you wish to.
Why should I take this course?
If you work in the food industry, you must be aware of allergens and intolerances to control and manage their risks. Failure to do so could cause massive safety and publicity issues for your business.
The knowledge gained from this course is highly transferable throughout various roles. So whether you are a food handler, a manager working with food or selling food from a counter, this course will give you the skills you need to control allergens.
Introduction to Allergens course entry requirements
There are no formal entry requirements for this course. 
To access the eLearning course.
You will need to log in via a desktop or tablet device connected to the internet. In addition, some parts of the course may require you to use speakers or headphones.
Mobile phones are not recommended for this training.
We cannot guarantee that the course will be compatible with your device.
Is this course accredited?
Highfield Qualifications accredit this course. Highfield is the leading organisation in providing food hygiene training to improve safety standards.
This course is also accredited by Allergy UK and meets the industry standards to allow you to join the Allergy Aware Scheme. By joining the scheme, you are showing your commitment to safeguarding those with food allergies.
Where can I complete this course?
This course is only available to book online through our eLearning platform.
eLearning Courses
As long as you have an internet connection, you can access this course from anywhere, whenever you need to.
To book an eLearning course, you can book directly online or complete the enquiry form available on this page. Your enquiry will be picked up by one of the 3B team, who will be in touch.
Further Development
Once you have completed the course, you will be able to download your certificate instantly. Your certification is valid for three years before you must renew it to remain qualified. After that, to requalify, you will need to complete the course again.
3B Training offers a range of classroom Food Safety eLearning courses. Find out more about the courses available or book a course online via the links below – each course for those at different levels of a food business.
Food Safety Level 1 eLearning is an introduction to food safety, ideal for new staff who deal with food in their work.
Food Safety Level 2 eLearning is a more detailed food safety course covering the knowledge required for food in a medium risk environment.
Food Safety Level 3 eLearning is for those in a supervisory role in a food-related workplace, e.g. chefs.
NEXT AVAILABLE COURSES
Buy This Course
Introduction to Allergens eLearning

eLearning - 02 Jan 2030

£15 + VAT
Are you interested in other eLearning Courses?
VIEW MORE COURSES