IPAF
The International Powered Access Federation (IPAF)
Overview
IPAF are a highly recognised governing body when it comes to powered access equipment, training delegates in how to operate MEWP's (Mobile Elevating Working Platforms).
IPAF provide training for two major categories of equipment, scissor lifts and cherry pickers, once you have completed your training on these machines you will receive a PAL card which proves that you are competent to operate them and the card lasts for five years.
Course Content
Each IPAF course no matter what category tend to go by a similar structure. The day will start with a theory based session in which Health and Safety Legislation, the safe operating guide and the responsibility of an operator are covered. They will also have a briefing on how to safely use the machine they are training on.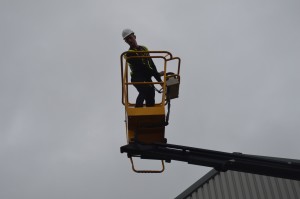 You will then cover the pre-user checks on a machine and becoming familiar with the machine. The trainer will then touch on what are  safe working environments to operate the machine.
Next you will move onto the practical session in which you will demonstrate your ability to operate the machine and implement the correct pre-start checks.
You will be examined with a written and practical exam and a one-to-one interview with the assessor.
Available Courses
There are a range of different IPAF categories that will teach you how to safely operate the following:
3a Category (Mobile Scissor Lift).
3b Category (Mobile Cherry Picker).
1b Category (Static Cherry Picker).
IPAF may also cover other variations of the above equipment including:
Scissor Training.
Boom Training.
Van Mount Training.
Trailer Mount Training.
Spider Training.
Suitable Delegates
The training is suitable for those who need to obtain their PAL card in order to legally work on powered access equipment.
To book on an IPAF course give our office a call by contacting us here.