Managing Conflict in the Workplace eLearning Course
Managing Conflict eLearning course will give you the skills to manage conflict situations in the workplace. Although nobody likes conflict in the workplace, it happens, so you need the skills to deal with it. The various techniques that you learn will also look at those of different cultures and personalities, so you are well equipped to defuse conflict and prevent its repercussions.
Highfield accredited training.
Available entirely online.
eLearning is a  self-paced and fast way to complete a training course.
Learn how to effectively and confidently defuse conflict situations.
Valid for three years.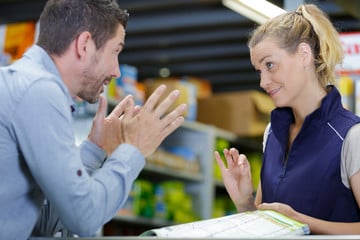 Managing Conflict eLearning course content
Upon booking, you will receive your login details via email and then have up to 12 months to complete the course. After 12 months, your license will expire.
The Highfield training course covers the relevant knowledge you need to pass the course through interactive slides and activities.
Areas covered in the course include:
What is workplace conflict?
How to respond to conflict
Different types of ego
Cultural differences
The behavioural cycle
Breakdowns in communication
The PEACE model
Customer conflict
The HEAT technique
Behavioural patterns
Distance zones
Danger zones and physical conflict warning
Impact factors
The BAP strategy
Assessment
To pass the course, you will need to complete a series of knowledge check, multiple-choice questions.
How long is a Managing Conflict eLearning course?
The course will take around 20 – 40 minutes to complete.
The course duration allows you to get qualified quickly and easily around your schedule.
Why should I take this course?
If you work in both non-profitable and commercial organisations, you can take this course. The course is also ideal for new starters and apprentices.
Conflict in the workplace can be dangerous within an organisation. For example, team morale, bad customer experiences, and poor external reputation can come from conflict situations.
Training yourself or your workers to defuse conflict effectively will help relieve threatening and potentially violent situations in the workplace.
The knowledge you gain from the course will also help to increase employee engagement, improve customer experiences and keep intact vital workplace relationships.
Managing Conflict in the Workplace eLearning entry requirements
There are no formal prerequisites for the course. 
Although to complete the course.
You will need to access the internet through a laptop, computer or tablet. We do not recommend Mobile phones; we cannot guarantee that your device will be compatible with the training.
Is this course accredited?
Highfield Qualifications accredit this course.
Highfield is a globally recognised awarding body that provides various vocational and compliance qualifications.
Where can I complete this course?
This course is only available through our eLearning platform.
eLearning Courses
eLearning courses are highly accessible. As long as you can connect to the internet, you can complete the course anywhere at any time.
To book an eLearning course, you can book directly online or complete the enquiry form available on this page. Your enquiry will be picked up by one of the 3B team, who will be in touch.
Please take a look at all of the eLearning courses we have available here.
Once you have booked, you will receive an email with your login details. You then have 12 months to complete the course before your license expires.
Further Development
On completion, you will then be able to download your certificate instantly from the system. The certificate is valid for three years before it expires. After that, to renew your qualification, you must complete the online course again.
Personal Development eLearning courses all provide you with transferable skills that can help to improve your performance in the workplace. Please take a look at the other Personal Development eLearning Courses we have available here.
NEXT AVAILABLE COURSES
Buy This Course
Managing Conflict eLearning

eLearning - 02 Jan 2030

£15 + VAT
Are you interested in other eLearning Courses?
VIEW MORE COURSES