NVQ Level 4 in Construction Site Supervision – Tunnelling
NVQs – NVQ Level 4 in Construction Site Supervision
Tunnelling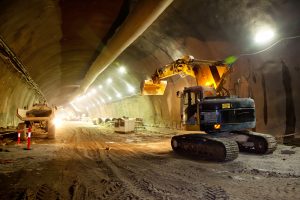 The NVQ Level 4 qualification is designed for delegates who work in a tunnelling role within the construction industry. The qualification will assess a learner's ability to work in their job role, as they display their ability and knowledge in the workplace to an acceptable standard for the construction sector. Learners who are undergoing an NVQ must be currently in work in order to complete the course.
Course length:
Approx. 9 – 18 months
Who is it for:
This course is for a Supervisors and Assistant Managers who work in tunnelling in the construction sector. Those attending will be aiming to obtain their Gold CSCS Card (Supervisory)
Course Content
NVQ Level 4 in Construction Site Supervision
The learner will be assessed on site through a range of methods, such as observations, professional discussions, written questions, witness testimonials and evidence generated from their work. The compulsory course structure includes the following mandatory units:
Maintaining Systems for Health, Safety, Welfare and Environmental Protection in the Workplace
Assessing and Recommending Work Methods for Carrying Out Site Operations in the Workplace
Planning Activities and Resources to Meet Work Requirements in the Workplace
Co-ordinating and Organising the Control of Work in the Workplace
Controlling Work Progress Against Agreed Programmes in the Workplace
Allocating and Monitoring the Use of Plant, Equipment or Machinery in the Workplace
In order to progress down Tunnelling pathway, learners need to complete the below mandatory units:
Developing and Maintaining Good Occupational Working Relationships in the Workplace
Maintaining Supplies of Materials to Meet Project Requirements in the Workplace
Controlling Work Against Agreed Standards in the Workplace
Contributing to the Control of Work Quantities and Costs in the Workplace
Allocating Work and Checking People's Performance in the Workplace
Supervising Tunnelling Activities in the Workplace
They must also select two of the below optional units and gain the required credit total from them:
Implementing Communication Systems for Construction Projects in the Workplace
Maintaining the Dimensional Accuracy of Work in the Workplace
Co-ordinating Preparation Work for Site or Lifting Operations in the Workplace
Managing Personal Professional Development in the Workplace
Identifying and Enabling Learning Opportunities for Given Work Teams in the Workplace
Contributing to the Identification of Work Teams in the Workplace
Entry Requirements
The minimum age requirement of a learner is 16; there are no other entry requirements for the qualification but the learner must show evidence that they can complete all the course units.
Further Development
A suggested further qualification would be to attend the Level 6 NVQ in Construction Site Management.
Contact Us Today
Our NVQ contact is Rob Boardman. Please do not hesitate to contact us or email [email protected] if you have any questions or would like to apply for an NVQ. Rob will contact you and arrange a sign-up meeting once you have applied for an NVQ.  He will then explain how the process works and assign you an assessor who you can ask for guidance throughout the process.