Parent and Child First Aid
First Aid Courses –  Parent & Child First Aid
Overview
The Parent & Child First Aid course is designed to teach both you and your child what to do in the event of a first aid emergency.
All money raised will be going to directly to Millie's Trust Charity
Course Length:
Three hours
Who is it for:
Adults (parents, grandparents and anyone else who looks after children) and children from the age of 4+
Course Objectives
By the end of the Parent & Child First Aid course; parents will know how to administer emergency first aid to a child and children will know what to do if they need to call 999.

 Course Content
The course teaches the adults how to:
Deal with a child who is choking or has stopped breathing
Conducting CPR on a child.
Putting a child into the recovery position.
Treating head injuries on a child.
How to deal with minor, bruises, shock, cuts and sickness.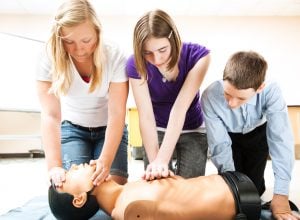 The course teaches the children how to:
How to call 999
Telling the emergency services your address
How to administer basic first aid
Course Locations
The course is available at our Head Office in Wigan for just £5! This course can also be arranged as an in-house course.
Contact Us Today
If you have any further questions, or if you would like to arrange an in-house course, please feel free to get in touch or email us via [email protected].
The Benefits of Attending Paediatric First Aid
Take a look at some reason why the Paediatric First Aid is a beneficial course to attend here.