PASMA Tower Training
Other Training Courses – PASMA Tower Training
Overview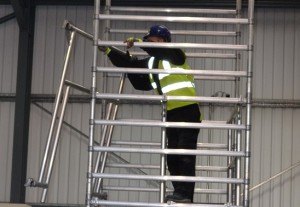 PASMA Tower Training is provided to allow attendees to learn best health and safety practice whilst using mobile access towers and working at heights. This training is vital for those who are looking to work on a mobile tower as the course provides you with the correct card to do so. This card will prove that the delegate is fully competent in using working at heights equipment.
Course Content
Tower Training courses cover the following topics:
Relevant health and safety regulations, laws and legislation.
Understanding potential hazards and equipment problems.
How to carry out the correct safety checks.
How to assemble and dismantle a tower.
There are a range of different tower training courses available such as the:
1 day Combine Low Level Access course.
½ day Low Level Access course.
1 day Towers for Managers course.
Working at Heights training is also a very relevant course in this area.
The course is a classroom based session.  The training features the use of informative videos and group discussions. Their will also be practical elements to the course.
Suitable Delegates
A person who is responsible for erecting, disassembling, adjusting, maneuvering and inspecting of mobile towers in their occupation.
You must also bring your own Personal Protective Equipment (PPE) to the course. Makes sure you are present for the training with a hard hat, a hi vis, gloves and sturdy footwear.
Further Development
It is also advised that you attend the IPAF course so that you are officially ready to work at heights, deal with any on-site problems and will be able to supervise more effectively.
A PASMA Certificate and Card will be awarded on completion. The card will last for five years before it is due for renewal
To book onto a PASMA Tower Training contact us here.
Find a Course
Location: Bolton
Date: 26 Jul 2017
Only 3 places left!
Location: Bolton
Date: 4 Aug 2017
Only 3 places left!
Location: Bolton
Date: 16 Aug 2017
Only 3 places left!
Location: Bolton
Date: 30 Aug 2017
Only 3 places left!