Stress Management Training: eLearning Course
Stress Management eLearning course will help you to understand work-related stress and its causes. By understanding these causes, you will know how to manage them better.
Highfield accredited.
Understand how work-related stress can affect you and others.
Delivered completely online.
An easily accessible and flexible training.
Valid for three years.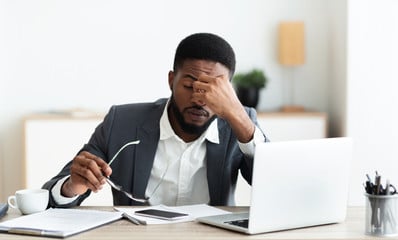 Stress Management eLearning course content
Upon booking, you will receive your login information via email and will need to finish the course within 12 months.
The Highfield training course will take you through various strategies to help you cope with stress. Each section covers key subjects of stress management.
The course covers the following units:
What is stress?
The causes of work-based stress
The effects of stress on job performance
Stress management strategies
Reducing stress
Stress and the law
Management of Health and Safety at Work Regulations
HSE's management standards
Work-related stress risk assessments
Assessment
Upon completing the course, you will then complete some multiple-choice questions to test your understanding of the content.
How long is a Stress Management eLearning course?
The typical duration of the course is 20 – 40 minutes.
You can complete the course at work or in your own time effectively and efficiently. The short duration is an ideal way to give you the knowledge you need without taking too much time.
Why should I take this course?
This course is suitable for workers and managers in both non-profitable and commercial organisations.
Everyone experiences some form of stress at work; it's normal. Some of it can be positive as it can make you more alert and improve performance. Despite that, you must understand how it can affect people as a mental health issue.
By understanding stress, you are helping to combat the issues that it causes in the workplace. You will be able to look after your or your employee's wellbeing and reduce the absences caused by stress and the mental health issue that stress triggers.
Stress Management eLearning course entry requirements
There are no formal prerequisites for the course.
Although to access the training. 
You must have a laptop, tablet, or computer connected to the internet. You will also need to have access to speakers or headphones to follow the parts of the course that require sound.
Is this course accredited?
This course is Highfield accredited. Highfield provides quality and content filled online courses designed to engage the learner.
Where can I complete this course?
This course is only available as an eLearning course. The course can be completed remotely from the workplace or at home in your own time.
To book an eLearning course, you can book directly online or complete the enquiry form available on this page. Your enquiry will be picked up by one of the 3B team, who will be in touch.
Please take a look at all of the eLearning courses we have available here.
Further Development
Once you have completed the course, you will be able to download your certificate. Your certificate will be valid for three years before it expires. After that, to renew your qualification, you must complete the course again.
Please take a look at the other Personal Development eLearning Courses we have available here.
NEXT AVAILABLE COURSES
Buy This Course
Stress Management eLearning

eLearning - 02 Jan 2030

£15 + VAT
Are you interested in other eLearning Courses?
VIEW MORE COURSES