Teamwork Training: eLearning Course
Team Working eLearning is an online training course that will educate you on working effectively as a team, relationship building, effective communication and their importance. The skill that you gain are highly transferable and can be applied across a range of industries.
Highfield accredited.
Delivered completely online.
Easily accessible and flexible training.
Develop your own or your organisation's team working skills.
Valid for three years.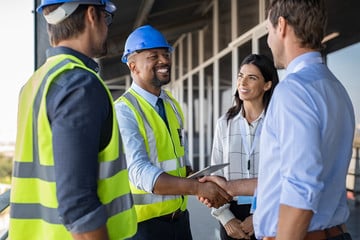 Team Working eLearning course content
Once you have booked the course, you will be sent your login details via email. As soon as you begin the course, you have up to 12 months to complete the course before your license expires.
The Highfield training course covers the relevant subjects you will need to pass the online training through a range of interactive activities.
The course content covers:
What is teamwork?
How to effectively work with colleagues
How to establish a good working relationship
Group teamwork and composition
Group personalities
Negative and positive communication characteristics
Active listening
Self-analysis
Motivation
Feedback
Positively handling criticism
To pass the course, you will need to complete a series of multiple-choice questions.
How long is a Teamwork Training online course?
The typical completion time for the course is between 20 – 40 minutes.
The course is self-paced, and you can complete it at a time that suits you. In addition, the short duration of the course should allow you to complete it quickly and productively.
Why should I take this course?
Teamwork is a vital skill to make a workforce more effective. Workers and managers from all levels of a business can benefit by improving these skills to help improve the business throughout.
By having all of your organisation working towards the same goal, you are helping to build a positive company culture and therefore becoming more productive and successful.
Team Working eLearning course entry requirements
There is no prior knowledge needed to complete this course.
To access the training, you will need to have specific technical requirements.
You must log in to the portal via a tablet, computer or laptop whilst connected to the internet.
We do not recommend the use of mobile phones to complete the course. Some mobile phones may not be compatible with the system.
Is this course accredited?
This course is Highfield accredited. Highfield provides quality and content filled online courses designed to engage the learner.
Where can I complete this course?
eLearning Courses
Our eLearning courses are highly accessible and can be accessed anywhere, as long as you can connect to the internet. As a result, you can gradually complete the course at your own pace and not rely on specific time constraints or course availability.
You can book this course via this page, or if you have any questions, please fill in the enquiry form. Once you have sent your enquiry, one of the team will be in touch with you.
Further Development
On successful completion of the course, we will send you a downloadable e-certificate. The e-certificate will remain valid until three years from your completion date. After that, to maintain your qualification, you must complete the course again.
Communication is a vital part of teamwork. So why not also complete our Communication eLearning course that will help to develop that skill specifically?
Please take a look at the other Personal Development eLearning Courses we have available here.
NEXT AVAILABLE COURSES
Buy This Course
Team Working eLearning

eLearning - 02 Jan 2030

£15 + VAT
Are you interested in other eLearning Courses?
VIEW MORE COURSES