CITB Health and Safety Awareness Training
CITB – Health and Safety Awareness Course
The CITB Health and Safety Awareness is a course for those in the construction. The delegates will attend a basic introduction to understanding the potential hazards on site. They will learn how to contribute to keeping the workplace safe.
By the end of the course the delegate will be able to:
Understand the need to prevent accidents.
Have an understanding of Health and Safety Law.
Identify how their role fits into the control and management of the site.
Understand the need for risk assessments and method statements.
Appreciate the need to perform safely and to stop and ask for advice if not sure.
Feel obliged to report unsafe acts to prevent an accident.
The structure consists of a classroom-based discussion work and individual/group presentations. Delegates are expected to be interactive on the course and will be assessed by 25 multiple choice questions. They will aim to get 20 correct for a pass.
What's next?
In completion of the course, the delegate would then apply for the CITB Health and Safety and Environment touch screen test.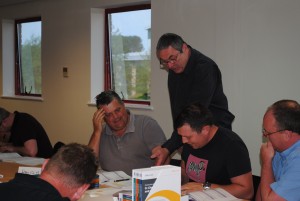 The test needs to be attended in order to obtain their CSCS Green Labourers card. This card is used as proof that the person has passed the relevant training. By holding it you should be able to demonstrate Health and Safety competence.
Due to the changes in July 2014, anyone who conducts a labouring role must hold this card. The card is vital for anyone who wants to get on site. Even if you are highly experienced in the construction industry you will still need to attend to obtain a renewed card.
We have various venues that offer H&S training in a variety of areas. Such as Wigan, Liverpool, Manchester, Leeds, Durham and Sheffield.
For information on other Site Safety Plus CITB accredited courses visit our contact us here.
Back to News
View Our Courses