Spotlight on 3B Training Chelmsford
3B Training Chelmsford was introduced to help expand 3B Training's offering in the South of England.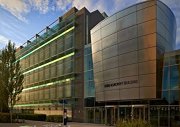 3B Training Chelmsford began offering training in May 2017. The venue offers alternative dates for customers in the South who cannot attend the dates we offer in Watford. The venue is situated on the Chelmsford Campus of Anglia Ruskin University. The centre is local to the city's amenities such as the places to eat and a Best Western Hotel for those who need to stay overnight.
3B Chelmsford Team
Our Training Advisor for the South, Lynsey Mason looks after our Chelmsford centre. She is always available at the end of the phone to help you with any training requirements you may have in the Chelmsford area.
Courses Available
Our Chelmsford centre training room can hold up to 20 delegates per course. We deliver a selection of Site Safety Plus courses at the venue. Site Safety Plus courses are intended for those who require health and safety training at various levels in the construction industry.
We offer the SMSTS (5 day course); for Site Managers and Site Agents and the SSSTS (2 day course); for Site Supervisors. We also offer the 2 day SMSTS Refresher course for those who need to renew their SMSTS certificate before it expires.
For those who need to obtain their Green CSCS card; we have dates scheduled for the Health and Safety Awareness course on a regular basis. If you are looking to pursue a career in health and safety in the construction industry; we also deliver the NEBOSH Construction Certificate at 3B Training Chelmsford.
To book a course online in Chelmsford or to view our scheduled course dates with prices included click here.
Back to News
View Our Courses