Abrasive Wheels
3 in 1 Courses – Abrasive Wheels
Overview
This course is a 3 hour session. The tutor tailors the course for those who need training on the use of abrasive wheels. (Or other grinding and cutting tools) on site. The half day course is better for those who are more experienced abrasive wheel operators or those who only use basic hand held or bench grinding tools.
Course Content
This course is designed to provide training that meets the requirements of the Provision and Use of Work Equipment Regulations 1998 (PUWER 98).  The course covers the following:.
The Need to Train and Statutory  Requirements.
Characteristics of an Abrasive Wheel and the Types.
Marking of Abrasive Wheels.
Speed.
Hazards and Precautions.
Personal Protective Equipment (PPE).
Storage & Handling.
Inspection and Methods of Testing for Damage.
Abrasive Wheel Machine Components.
Guarding.
Dressing & Balancing.
Specific Mounting Procedures.
The course is delivered in the classroom through demonstrations by the tutor. Delegates also attend a  practical element in the course. In this part the delegates will familiarise themselves with changing the disks on the saw.
Suitable Delegates
The course is tailored to those who are required to use an abrasive wheels in their occupation. The course is also suitable for someone who needs assimilation to the machines.
The tutor alters the course depending on which saw is relevant to the delegates occupation. The clients needs to advise the tutor before the course.
Further Development
By the end of the course delegates will have a better understanding of the legal requirements of safely using an abrasive wheel. They will also be able to pinpoint possible hazards and pr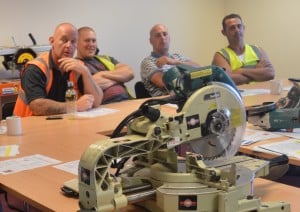 event them. They will be able to select the correct PPE and safety equipment and check appropriately.
Successful delegates should also leave with the ability to use the equipment in a safe and productive way.
3B Training offer Abrasive Wheels as part of the 3 in 1 course package. To find out more on how you can save money with this package click here.
Available Venues
The Abrasive Wheels training course is available as a short course in Liverpool, Bolton and Manchester.
Find a Course
Location: Manchester
Date: 3 May 2017
£65.00 + VAT
£58.50 + VAT
Location: Liverpool
Date: 4 May 2017
Location: Liverpool
Date: 8 Jun 2017
Location: Wigan
Date: 12 Jun 2017