COSHH
Control of Substances Hazardous to Health -COSHH Training
Overview
The COSHH course is devised to inform delegates of the dangers of chemical substances. The course aims to make sure that you or your company follows the relevant rules and regulations.
The course can be delivered in a range of different training courses. General COSHH Training, COSHH for Managers and Supervisors and also COSHH Awareness Training.
Course Content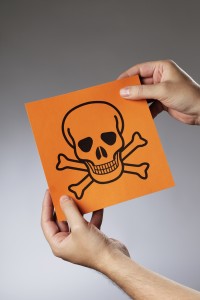 The course provides a basic overview of recognizing, measuring and managing exposure to harmful chemical substances.
The course will go over the following subjects:
The different forms of biological and chemical agents.
Classifying substances.
Specific agents and their health hazards.
Routes of entry.
Who is COSHH for?
Limits of workplace exposure.
Control measures.
Health risk surveys.
Environmental issues.
Practical risk assessments.
You are not required to attend a final exam at the end of the training. Finally at the end of the end of the course will the delegate will simply receive a certificate.
The tutor tailors the training to the clients needs. It is an effective way of teaching a particular organisation about substances relevant to them. The course can also go over the relevant risks that the workers will face. In comparison to general overview the trainer can help an organisation implement procedures that everyone will understand rather than delivering a generic course.
Further Development
On completion of the course delegates with have gain further knowledge of hazardous substances. They have gained knowledge in classifying, packaging and labeling of Chemical Regulations 2015 legislation.
Suitable Delegates
The course is suitable to a broad range of delegates from all industry sectors. Those who use, store, handle, transport or manufacture hazardous substances will attend the course.
We deliver training in the North West, Yorkshire, North East, Watford and The Midlands. For information on any other training courses that we provide get in touch with us on our contact us page.