First Aid at Work
First Aid Courses – First Aid at Work
Overview
First Aid at Work is providing immediate action to a victim with an illness or injury. You will learn deal with the patient until a medical professional is present. This course teaches the skills needed to become a competent first aider at work.
HSE legislation states that all employers are responsible for making sure that their employees receive immediate attention. This is vital  if they are taken ill or injured whilst at work.
In order to make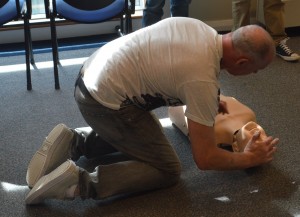 appropriate arrangements for your workplace you should consider the size of your work force. You must also assess the potential health and safety risks around your premises. E.g. if there is a significant health and safety risk due to use of machinery or hazardous substances. Then it is essential to train staff in First Aid at Work.
Course Content
The three day course covers:.
The day to day role of a first aider.
How to deal with a range of scenarios in the workplace.
This ensures all staff being trained in First Aid at Work are able to deal with incidents in the work place in accordance with HSE legislation.
The course will teach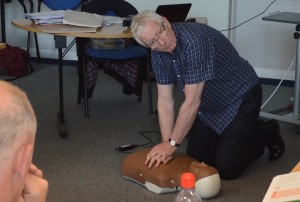 you how to cope with situations in which you would use a first aid kit, treatment of an unconscious casualty, cardiac arrest, resuscitation, fainting, low blood sugar, asthma, seizures, severe allergic reaction, eye injuries, fractures, poisoning, burns and scalds, bleeding, choking and shock.
You will also learn how to record the accidents correctly.
Suitable Delegates
This course is tailored for people who want to receive in depth training and is notably suited for appointed workplace first aiders looking to gain the First Aid at Work qualification.
Further Development
To re-qualify your certificate you will have attend a First Aid Requalification course after three years.
To find out more about which course is the most suitable for you read our blog here.
The First Aid at Work course is available in all of our North West venues including Bolton, Liverpool and Manchester. We also provide training in Watford, Derby an in our Yorkshire venues in Hull, Leeds and Sheffield.
Find a Course
Location: Watford
Date: 3 May 2017
Location: Liverpool
Date: 8 May 2017
Location: Wigan
Date: 17 May 2017
Location: Manchester
Date: 24 May 2017
£190.00 + VAT
£171.00 + VAT