Paediatric First Aid
First Aid Courses –  Paediatric First Aid
Overview
This paediatric first aid course is a two day course which teaches the delegates how to apply first aid to children; the course contains both theory a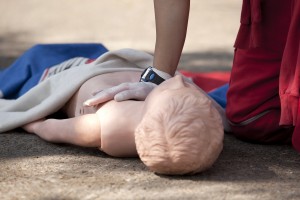 nd practical elements. This course is recognised by Ofsted and someone is required to be qualified in any workplace where there are children.
Even if you don't need the training at work you can still attend the course to apply your training on your own children.
 Course Content
The course teaches the attendee how to:
Deal with illness or injury.
Deal with an unconscious and breathing/not breathing child.
How to prepare a first aid kit and how to not cross infect.
Recording and reporting accidents.
How to deal with minor cuts, bruises, sickness, shock, chocking and how to apply these techniques onto an adult.
Basic first aid skills will also be picked up through the duration of training. You will also learn how to administer medication for those working in childcare.
The course makes sure that the employees attending are capable to work in line with HSE legislation.
Suitable Delegates
The course is suitable for childminders, nursery nurses, nannies and school staff and anybody who deals with children. You must be over eighteen and over to attend the course.
After three years you will need to re-attend the course to re-qualify your certificate.
To book onto a Paediatric First Aid course please call 01204 554 888 or email training@3btraining.com.
To find out how the Paediatric First Aid course can benefit you click here.
Further Development
We also offer various other First Aid courses across a range of venues nationwide. We deliver the following courses in Bolton, Manchester, Liverpool, Derby, Hull, Sheffield, Leeds and Watford and we can also come to your venue.