Meet The Trainer – Matt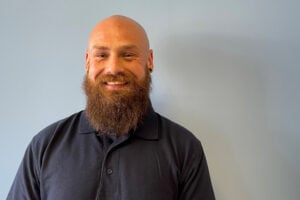 Matt Haddon is a 3B trainer based in the North West.
He joined the team in July 2021 and deliver online, classroom and in-house training courses.
Take a look at our Q&A with Matt below…
Describe your role in 4 words
Every day is different.
What is the best thing about being part of the 3B team?
Everyone is so friendly and welcoming.
Why did you choose to become a trainer?
I felt that I have a lot of onsite experience that I can use to help others stay safe out on site.
What do you deliver at 3B Training?
CITB accredited courses, GQA CSCS Course Test & Card, Health & Safety and Scaffolding & Working at Heights courses.
What do you enjoy most about your job and why?
I really enjoy the new virtual aspect of training via zoom. It's great to be with a company that has helped to pioneer this new way of training. That being said, I do enjoy the classroom environment, as you can't beat the atmosphere and conversation.
What does a typical day at 3B look like for you?
If I am booked in for online training, I usually log on about an hour or so before, just so I can get prepared and make sure everything is working as it should. As I am quite new to 3B and to training in general, I like to make sure I am confident in the courses I am delivering, so I usually go over each course a couple of times before I start.
If you could introduce a new training course, what would it be?
Before joining 3B, I worked for an events company setting up anything from gigs/festivals to corporate events. A training course on how to be a good roadie would be great!
What do you enjoy doing when you're not working?
I love going to watch live music and riding my motorbike. It's even more fun when the two are combined. So we go to a lot of bike rallies as well as gigs. My daughter is 10 now and has been coming with me to gigs since she was 5.
What is a fun fact about yourself?
I have quite a lot of tattoos and am ¾ of the way through completing a full back piece based on Norse mythology.
Who would you most like to swap places with for the day?
I would have to say Slash from Guns N Roses. I followed them around Europe for 5 shows in 5 cities and it was amazing. I can't play any instruments at all so it would be great to get up on stage and do what they do!
What has been your biggest achievement? 
Raising my daughter to be a little rocker like me. The look of awe on her face whilst at a gig is the best ever!
From a work perspective, I would have to say, re-training and gaining my level 3 in education and training along with various other health and safety qualifications and then taking the leap into the world of training with 3B.
Back to News
View Our Courses