New Dudley Training Centre Launched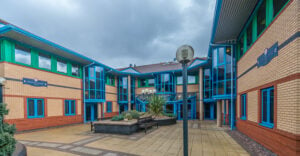 At 3B Training,  we are pleased to announce the launch of our new training venue at the Waterfront in Dudley.
The opening of the new Dudley training centre at MSO Workspace in The Waterfront reflects the growth of our training portfolio, and alongside our established Derby centre will be managed by the Midland's team at our new Tamworth office.
Our training offer at the new Dudley centre will include nationally recognised accreditations such as CITB, IOSH, Highfield and 3B accredited courses.
3B's Managing Director, Mat Bewley, said:
"The opening of our new venue reflects how hard we have worked to drive the business forward, despite everything we have faced this past year, with the take up of online training and being able to expand our portfolio. We'll be delivering our full suite of high quality accredited training and we look forward to welcoming Midland's businesses to our new centre."
Stephanie Holley, Midlands Business Development Manager added:
"Dudley is a great location for us, and extends our ability to provide our high-quality training to Midlands based business, without the issues of travelling into Birmingham, alongside free parking and hotels within walking distance."
To launch the new centre we are holding a Construction Industry Training Board (CITB) Grants & Funding networking event.
Join us and Lorna Banks – CITB Black Country Advisor, to discuss the recent changes to the CITB grants scheme and Skills & Training fund.
Learn more about how you could receive additional funding of up to £25,000 via the Skills and Training Fund, as well as having an opportunity to engage directly with our team.
If you are a CITB registered employer with less than 250 or fewer directly employed staff, find out how we can help you access the fund and provide quality CITB accredited training.
Non CITB businesses are welcome to join us to find out more about the fund and our training offer at our new Dudley Centre.
Date: Wednesday 13th October
Time: 9:00 am – 13:00 pm
Location: MSO Workspace, 2010 The Crescent, Solihull Parkway, Birmingham Business Park, B37 7YS
It's free to attend and you can book through our Eventbrite page here.
Back to News
View Our Courses