What can I learn from Abrasive Wheels Training?
Abrasive Wheels training is a course devised to give a delegate competence in using an abrasive wheel.
The Abrasive Wheels course is a half-day training session for those who consistently use a range of different cutting and grinding tools.
Want to know more? Take a look at the skills and knowledge you can gain from an Abrasive Wheels training course.
Overview
The main objective of the training is to help the delegate comprehend current legislation surrounding abrasive wheels. They will also gain knowledge in identifying hazards, how to conduct the relevant checks and PPE.
Legislation
To allow an employee to operate an abrasive wheel on site it is advised that they are aware of the rules and regulations relating to them. If your operative is knowledgeable of legislation this will cover you as an employer from any future implications if they don't follow it. Over the duration of the training the instructor will touch on:
Health and Safety at Work Act 1974
Health and Safety Guidance note 17
The Provision and Use of Work Equipment Regulations 1998
The Personal Protective Equipment at Work Regulations 1992
The Dangers of an Abrasive Wheel
It is important when using a sharp high powered spinning blade that you are aware of the dangers it can cause if a wheel isn't properly fitted or is broken it could maim or kill the operative. Even if you have done all the relevant checks there will still be hazards; the course will cover all the hazards you may encounter, whilst cutting or grinding.
Types and Shapes of Wheels
Wheel Markings
When covering the types of wheels, the tutor will also explain the methods of marking a disk. Each disk is designed for certain material and is marked accordingly. The markings also indicate the wheel hardness, the grain size, its dimensions and the speed the wheel can withstand. From the course, you will be able to identify a wheel's operating speed by its coloured band.
Storage & Handling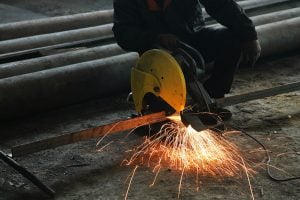 You cannot simply just slide a wheel into a drawer for storage; you need to regard the wheels as a fragile object so it needs to be stored correctly. This part of the training will explain the conditions in which an abrasive wheel should be stored and how to move it from A to B if needed.
Safety Inspections
To ensure a wheel is safe to use you need to conduct the correct inspections beforehand. The instructor will teach you how to conduct a ring and a visual inspection. You need to look out for rust, cracks, no wrapping and water or chemical damage. You will also learn how to inspect the other components of the wheel including the nuts, bolts and other assembling components.
Selection of Correct PPE
PPE or Personal Protection Equipment is highly important in keeping yourself safe when operating an abrasive wheel. On this part of the course, the trainer will go over the importance of PPE and what equipment you should be wearing for a certain task.
To find out more about Abrasive Wheels Training click here.
3B Training provides the Abrasive Wheels course in Wigan, Liverpool, Manchester, Leeds and Sheffield and can also deliver the course at your venue. To book a course online click here.
Understanding Abrasive Wheel Markings
For more information on abrasive wheels markings, take a look at our informative blog here.
Back to News
View Our Courses