When is an incident reportable to RIDDOR?
What is RIDDOR used for?
RIDDOR or the Reporting of Injuries, Diseases and Dangerous Occurrences Regulations 2013 require employers to report specific workplace accidents.
Should every accident in the workplace be reported to RIDDOR?
There can be a lot of uncertainty about what accidents need to be reported. Take a look below at our guide which will hopefully make it clear when to report an incident to the RIDDOR and the HSE.
What MUST be reported under RIDDOR?
Take a look below at the list of injuries that meet the criteria to report under RIDDOR 2013 as a RIDDOR "specified injuries":
Amputations (loss of limbs)
Crush injuries that result in damage to the brain or internal organs
Injuries that have or are likely to result in perpetual loss of sight
Scalping (removal of the hair and scalp) that leads to hospitalisation
Serious burns that cover more than 10% of the body or cause damage to the eyes, vital organs or respiratory system.
Fractures to anything other than thumbs, toes and fingers
Loss of consciousness through asphyxia (the body being deprived of oxygen) or head injury
Confined space injuries which result in hypothermia or heat-related illness or calls for resuscitation and hospitalisation for over 24 hours.
Who should report an accident to RIDDOR?
It is the responsibility of the employer, the self-employed or someone in charge of premises to report an accident.
How many days should an employee be off work before it needs to be reported?
If a worker is unable to conduct their usual worker duties for more than seven successive days as a result of injury; the accident should be reported. The day of the accident is not included in the seven but weekends are included. The report needs to be made within fifteen days before the accident.
If a worker is incapacitated for over three days the accident needs to be recorded in an accident book but not reported under RIDDOR.
Accidents to members of the public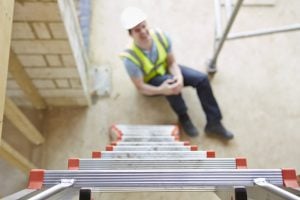 Accidents that occur in the workplace to members of the public need to be reported if it leads to; hospitalisation of the casualty and they are taken from the scene by ambulance for treatment. If they are taken to hospital as a precaution and no injury is obvious there is no need to report it.
Occupational Disease
Take a look below at the reportable diseases that are likely to be caused at work:
Occupational dermatitis
Carpal tunnel syndrome
Occupational asthma
Severe cramp of the forearm or hand
Occupational cancer
Tenosynovitis or tendonitis of the hand or forearm
Diseases that connect to exposure to a biological agent
Severe Near-misses
If an event could have resulted in a serious injury or fatality but didn't, it still needs to be reported. An example may be; heavy machinery overturning, failure to work safely or collapsing. Another reportable near-miss would be the accidental release of a harmful substance.
Fatalities
All deaths whether they are a worker or a civilian need to be reported if it has resulted from a work-related accident. This also includes acts of physical violence from an employee, however, suicides do not need to be reported.
Gas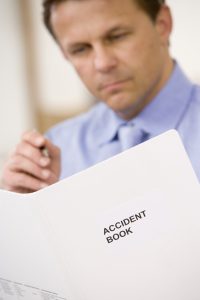 If a person has been taken to the hospital, becomes unconscious or has died as a result of gas the incident must be reported. The danger may arise from problems with configuration, installation, servicing or manufacturing the appliance. If this was the case it could lead to gas leaks, incomplete combustion of gas or inadequate removal of products of the combustion of gas.
How to Complete an Accident Report Form
If you would also like to learn how to correctly fill in an accident report form in the event of an incident click here.
To learn more about this and other workplace health and safety topics you can book onto one of our courses here.
Back to News
View Our Courses