NVQ Frequently Asked Questions (FAQ)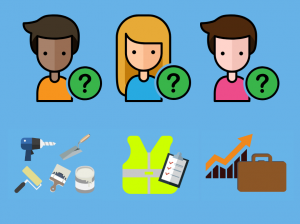 Choosing between NVQs isn't always easy, the qualifications require a learner's commitment and financial input to go ahead. Therefore, you shouldn't decide on enrolling onto an NVQ lightly. Make sure you have all the information that you need.
Take a look below at some answers for frequently asked questions about National Vocational Qualifications (NVQs) that will help make the process much clearer.
How do NVQs work?
NVQs are used to prove that you are competent in the role that you are currently in. You will need to provide evidence in various formats in order to complete units which each represent parts of the role. You do not need to renew an NVQ as they don't expire.
When can I apply for my CSCS card?
Upon enrolling onto an NVQ you will be able to apply for the Red Experienced Worker CSCS Card immediately. CSCS issue this temporary card whilst you are completing your qualification. Once you have finished your NVQ, you will then be able to apply for your intended card.
What CSCS card can I apply for on completion of my NVQ?
The card you can apply for depends on the NVQ you have taken. Find out more here.
How long does it take to finish my NVQ?
You can take as long as you need to finish your NVQ; the duration of the NVQ is entirely in your control. It goes down to how quickly you can gather all the relevant evidence for the qualification. Realistically you can complete an NVQ qualification in 3 – 12 months, but we will support you no matter how long it takes. You cannot fail an NVQ; you are either competent in your role or need to do work to be so.
Does it matter where I live when applying for NVQs?
Locations aren't usually an issue regarding assessments. We have assessor coverage from the North East down to the South West and everywhere in between. We can also cover some aspects of our NVQs remotely to eliminate the need for travel.
Can I complete my NVQ overseas? 
Plant and Trade NVQs require onsite assessments, therefore, they would need to be completed within the UK.
Construction Supervisory & Management, and Health & Safety NVQs can be completed overseas, using ePortfolio and communications can be conducted remotely.
What is ePortfolio and what are the benefits?
ePortfolio stands for an electronic portfolio. All the evidence and work you complete for your NVQ will be stored on the ePortfolio and accessible at any time.
Some of the benefits of ePortfolio include:
Access your portfolio anytime, from any device
Submit evidence as soon as you have it (e.g. upload photos and videos straight from your phone)
Work at your own pace
Take an active role in your NVQ, see what's due next and complete it sooner
Communicate with your assessor, organise sessions, and ask questions about specific tasks and activities
No risk of losing paper-based work
Can you do an NVQ from home?
Elements of your NVQ can be completed from home such as your knowledge evidence questions. However, you must be in full-time employment and complete most elements in a work setting.
How is my NVQ assessment carried out?
It's a common misconception that you will need to visit a 3B training centre to complete your NVQ. If our NVQ Assessors need to observe you in your role, they'll visit you on your site. Some qualifications also allow assessments to be completed over the phone or video call.
What types of assessment will I take?
During your NVQ, an assessment could include:
Work Product Evidence
Observations
Witness Testimonies
Professional Discussions
Reflective Accounts
Knowledge Evidence Questions
You'll use a variety of the above methods to show consistency in your role. Your assessor will work with you to determine the types of assessment that are best for you, making sure you're happy with your assessment process.
How much do NVQs cost?
All NVQ costs are listed on each qualification's page on the 3B Training website. You may notice that we have payment plan options for Level 6 / 7 NVQs.
We offer two options for Level 6 / 7 NVQs:
– 50% payment upon booking and 50% payment upon completion
– Four equal payments: one upon booking then week 4, week 8 and week 12
When can I start my NVQ?
You can start your NVQ at any point during the year. There aren't specific enrolment dates, so whatever date suits you.
What are NVQs equivalent to?
NVQs come in a range of different levels (2-7).  Take a look below at what each NVQ is equivalent to:
NVQ Level 2 equivalent- 4-5 GCSE grades A*-C (9-4)
NVQ Level 3 equivalent- 2 A Levels
NVQ Level 4 equivalent – Higher Education Certificate/BTEC
NVQ Level 5 equivalent – Higher Education Diploma/Foundation Degree
NVQ Level 6 equivalent – Degree with Honours e.g. BA hons, BSc hons.
NVQ Level 7 equivalent – Master's Degree e.g. MA, MSc
Back to News
View Our Courses