Advanced Scaffolding Inspection Training Course
Advanced Scaffold Inspection course gives you an in-depth understanding of health and safety regulations during the inspection process of a complex design scaffold. The knowledge you gain will enable you to inspect a complex scaffolding structure in line with the relevant regulations. And will therefore ensure that workers on said scaffolding will be at a lower risk of an accident.
Learn how to inspect complex scaffolding structures.
Delivered over 2-days.
CISRS accredited.
Gain your CISRS Advanced Scaffold Inspection card.
Work under The Working At Height Regulation 2005.
Improve scaffold health & safety knowledge.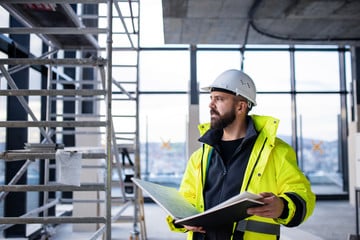 Advanced Scaffold Inspection course content
The course will go over all the terminology, regulations and approved Codes of practice surrounding scaffold inspection. Throughout the course, you will cover the following topics:
Securely and adequately assemble a range of scaffold structures
Examine regulations governing the safe assembling/dismantling/inspection of scaffolds
Conduct processes bearing, acknowledging and using method statements and risk assessments
Use scale drawings and scale rules
 Decide on the material requirements for a range of scaffold structures
Construct a scaffold to statutory regulations
SVQ / NVQ portfolio building
Assessment.
To pass the course, you must complete a final theory examination.
How long is an Advanced Scaffold Inspection course?
The course is delivered over two days of classroom learning.
The content is pretty intensive but covers all you need to know in two days.
Why should I take this course?
This course is for anyone responsible for inspecting complex scaffolds.
You will learn how to conduct your inspections safely and understand the procedures, component and forms of complex scaffold systems. The knowledge that you gain will help to make yourself and others safe.
The qualification is also a training requirement for the CISRS Advanced Scaffold Inspection card. The card will allow you competently to conduct your role on construction sites.
Advanced Scaffold Inspection entry requirements
To attend the Advanced Scaffold Inspection course, you need to have the following prerequisites.
You need to confirm completing the CITB Health, Safety and Environment (HS&E) test within the last two years. You may also attend the course if you hold any of the following in the previous two years:
CCNSG Safety Passport
FAS Safe Pass
You must also have obtained a CISRS card for two years.
Is this course accredited?
This course is accredited by the Construction Industry Scaffolders Record Scheme (CISRS). CISRS is the UK's leading training scheme for scaffold qualifications. They are the prefered qualification for a range of construction organisations and hold a lot of weight in the industry.
Where can I take this course?
We deliver the course at a CISRS approved training centre.
Public Classroom Courses
Advanced Scaffold Inspection courses are available to attend in selected locations across the country. We deliver the course in a training hanger approved by CISRS. You can book our live dates on our website or speak to one of the 3B teams over the phone. Please take a look at our full range of courses here.
In-house Courses
We are also able to arrange in-house scaffold inspection training courses. The courses can be arranged at one of our training venues or on a site of your choice, providing it is suitable to deliver the practical elements. The course is ideal if you have a large group of operatives who need to be trained at once, primarily if the training is delivered at your venue, as they won't need to travel. Each in-house course is priced individually depending on location and delegate numbers; for a quote, fill in the enquiry form on this page.
Further development
Once you have completed the training, you will obtain the Advanced SITS certificate and will be able to apply for the CISRS Advanced Scaffold Inspection card. You can then apply for the SITS inspection card. To book a CISRS SITS course, please contact us here.
You may also want to attend the Managing Scaffolding Operations Safely course. This course provides you with the knowledge to manage and control scaffolding operations safely.