COSHH Awareness Course
COSHH Awareness course informs you of the dangers of chemical substances and aims to make sure that you or your company follow the relevant rules and regulations. You will also learn how to conduct a COSHH risk assessment in your workplace to ensure that you and others do not come into contact with them.
Become qualified in just three hours.
Understand the dangers of hazardous substances.
Complete in the classroom or online.
We can deliver the course in-house.
Valid for three years.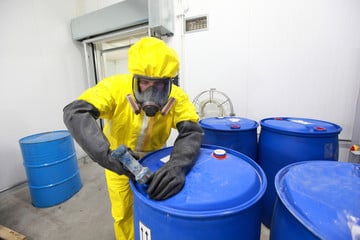 COSHH Awareness course content
The content covered by the training course includes:
The different forms of biological and chemical agents
Classifying substances
Specific agents and their health hazards
Routes of entry
What is COSHH?
Limits of workplace exposure
Control measures
Health risk surveys
Environmental issues
Practical risk assessments
The tutor can tailor the training to meet your needs; it is an effective way of teaching your organisation about substances relevant to your work. The course can also cover the relevant risks that you may face. In comparison to a general overview, the trainer can help specific organisations implement procedures that everyone will understand instead of delivering a generic course.
By the end of the training course, you will:
Understand the risks of handling and storing hazardous substances relevant to their industry
Have gained further knowledge in the classification, packaging and labelling of hazardous substances
Have a basic overview of recognising, measuring and managing exposure to harmful chemical substances
Possess a greater awareness of the Chemical Regulations 2015 legislation
What is Required to Pass the COSHH Course?
We will assess you through a short assessment paper at the end of the course. The tutor will also assess your contribution throughout the course.
How long is the COSHH course?
The course is delivered over approximately three hours.
The short course will provide you with the information you need to know and qualify you quickly.
Why should I take this course?
The course is suitable for a broad range of individuals from various industries, such as those who use, store, handle, transport or manufacture hazardous substances.
Chemicals and other hazardous substances can be a real health risk in untrained hands. To prevent injury and ill-health, you must understand the risks.
Under the Control of Substances Hazardous to Health Regulations 2002 (COSHH), the law requires you to control hazardous substances; this course will help you understand your responsibilities.
COSHH Awareness course entry requirements
There are no formal prerequisites for this course.
However, we do ask that you have a good understanding of written and spoken English.
Is this course accredited?
Yes, the course is 3B Training accredited.
At 3B, we continually review our training courses and develop them with our quality and training team.
Where can I complete this course?
This course can be delivered via both classroom-based or Online / Remote Learning.
Public Classroom Courses
We offer the COSHH course as a public course across the country. The course is delivered in a typical classroom format by a tutor. You can book one or more place online through our website with an option of various centres. You can also book over the phone or via our enquiry form if you prefer.
In-house Courses
We are also able to deliver this course in-house to a group of your employees. We can hold the course in a 3B classroom, a venue of your choice or remotely over video call software Zoom. We can make the course incredibly relevant to your company, tailored to company-relevant examples that help generate quality discussion. There must be a minimum of 3 delegates and no more than 12 for an in-house course to go ahead. For a quote, fill in the enquiry form on this page. Each quote varies depending on delegate numbers, delivery format, customisation and location.
Further development
Upon completion, you will be awarded a certificate. You will receive your certificate within 6-8 weeks of the course.
The certificate is valid for three years. To renew, you must attend the course again.
Potential cross-overs to this course include Spill Response, UKATA Asbestos Awareness and Sharps Awareness. All of these courses cover various other occupational hazards that require proper training to handle safely.
NEXT AVAILABLE COURSES
Next Available Courses
Sorry, there are no courses available at the present time.
Can't see the course date or location you are looking for?
VIEW MORE COURSES