Customer Service Level 2 eLearning Course
Customer Service Level 2 is an online training course that will educate you in delivering quality customer care in a customer-facing role. The qualification is relevant to workers and managers in both non-profitable and commercial organisations. You will learn about customer service principles, the needs and expectations of the customer, interpersonal skills, and complaints.
Highfield accredited.
Gain a Level 2 qualification.
You complete the course entirely online.
Easily accessible and flexible training.
Develop your customer service skills.
Valid for three years.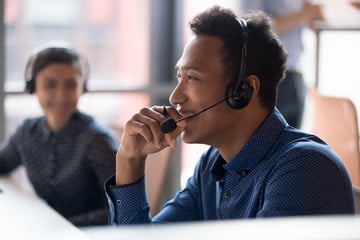 Customer Service Level 2 eLearning course content
Upon booking, you will receive your login details via email and will then have up to 12 months to complete the course. After 12 months, your license will expire.
The Highfield training course is split up into 4 parts. Each part covers the relevant knowledge you need to pass the course through interactive slides and activities.
The course contains the below units:
The principles of customer service.
The customer's needs and expectations.
Interpersonal skills and behaviour.
Responding to complaints and problems.
You will be assessed at the end of the course by multiple-choice questions.
How long is a Customer Service Level 2 eLearning course?
The typical duration of the course is 1-2 hours of learning. Therefore making the course manageable and not too time-consuming. You can complete the course all at once or at your own pace if you prefer.
Why should I take this course?
Customer service is a strong influencer in customers making a purchase; more than product or price. Therefore, having a customer service qualification is beneficial for business and employee development.
It is highly interactive and engaging, breaking each section into easy to follow chunks. The course is written by industry experts and contains real-life scenarios that can relate to your own role.
Customer Service Level 2 eLearning course entry requirements
There are no formal prerequisites for the course.
Although to access the training.
You must have a laptop, tablet, or computer connected to the internet. You will also need to have access to speakers or headphones to follow the parts of the course that require sound.
Is this course accredited?
This course is Highfield accredited. Highfield provides quality and content filled online courses designed to engage the learner.
Where can I complete this course?
eLearning Courses
This course is only available as an eLearning course. The course can be completed remotely from the workplace or at home in your own time.
To book an eLearning course, you can book directly online or complete the enquiry form available on this page. Your enquiry will be picked up by one of the 3B team, who will be in touch.
Please take a look at all of the eLearning courses we have available here.
Further development 
On completion, you will then be able to download your certificate digitally. Your certificate will be valid for three years before it expires. To renew your qualification, you must complete the course again.
NEXT AVAILABLE COURSES
Buy This Course
Customer Service Level 2 eLearning

eLearning - 02 Jan 2030

£25 + VAT
Are you interested in other eLearning Courses?
VIEW MORE COURSES