Fire Awareness Training Course
Fire Awareness course is an online course that will ensure that you are aware of the dangers of fire and the risks around the workplace. This course does not have a practical element, and you will not become accredited or qualified as an appointed person. However, the knowledge you gain will help create a positive fire safety culture around your organisation.
Increase your knowledge of fire safety.
Reduce the fire risk of your organisation.
Work safely and understand legal requirements.
You can complete the course online.
We can deliver this course in-house.
Valid for three years.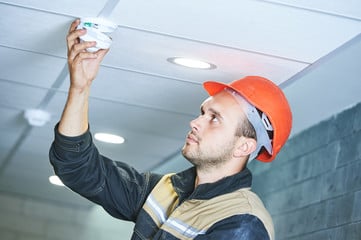 Fire Awareness course content
What does the Fire Awareness course cover?
The course will go over the following subjects:
The fire triangle and common sources of combustion and ignition
The growth of fire – the development of a fire and how fast it can spread
Prevention and containment of a fire – escape routes and fire doors and how to find them
Fire extinguishers – an overview of the types of extinguishers and their appropriateness to different fires
What to do when you discover a fire – being aware of your corporate procedure when you find a fire
Please note that this course does not include any practical content.
Course Objectives
At the end of the training, you will have a greater awareness of fire safety and highlight the level of risk, both at home and in your occupation.
What is Required to Pass the Fire Awareness Course?
The tutor will observe you on your levels of participation throughout the training. At the end of the course, you will complete a 20 question multiple-choice assessment paper.
How long is the Fire Awareness course?
We deliver the course over approximately three hours.
The three hours of training contains valuable content that you can take away and use immediately.
Why should I take this course?
Anyone in the workplace should attend this course; the more people aware of fire safety, the better. By having a positive fire safety culture in your workplace, you have more people with the knowledge to spot potential hazards and reduce the risk of fire.
Not only is fire dangerous to people, but it's costly to a business. Many businesses struggle to recover from the effects of fire on their premises and individuals.
Fire Awareness entry requirements
To attend the Remote Learning course.
You must have access to a computer, laptop, tablet, or phone with a microphone, webcam and access to the internet.
We also ask that you have a good understanding of spoken and written English.
Is this course accredited?
Yes, this course is accredited by 3B Training.
At 3B Training, we pride ourselves on delivering good value training courses. Our team continually update and develop our courses so that you can get the best out of your time with us.
Where can I take this course?
This course can be delivered via Online / Remote Learning or in the classroom as an in-house course.
Remote Learning
Fire Awareness training is available to attend as an online course through virtual conferencing software Zoom. A tutor delivers the online learning course to a group of up to 12 delegates who are each attending remotely.  You must have a device with a camera, microphone and internet connection to log into the course. All course materials, including the exam, are provided and completed electronically.
In-house Courses
If you have a group of individuals who need to attend the course, we can arrange the course to be delivered in-house to your company. The course can be delivered in the classroom or via remote learning. Fire Awareness is the perfect course to be produced in-house because your workers should have basic fire safety knowledge. In addition, the format encourages the delegates to discuss company-specific procedures and how they can improve their current processes.
For a quote, fill out the enquiry form on this page, and a team member will be in touch. Each quotation will differ depending on attendee numbers, location and delivery format.
Public Classroom Courses
Are you looking to become an appointed person? If so, you will need to attend the Fire Warden course. This course is only available as a classroom course due to its practical elements, such as practising fire extinguishers.
Further development
6-8 weeks after completion of the course, you will receive a 3B Training certificate. The certificate has a lifespan of three years before it expires. To renew your qualification, you must attend the course again.
The following steps would be to complete the Fire Warden training course, which will certify you as an appointed fire safety person.
NEXT AVAILABLE COURSES
Next Available Courses
Sorry, there are no courses available at the present time.
Can't see the course date or location you are looking for?
VIEW MORE COURSES