Fire Warden Training Course
Fire Warden training course (also known as a Fire Marshal course) gives you an understanding of dealing with fire hazards and lowering risk in the workplace in an emergency.
With the knowledge you gain, you can become a responsible person in your workplace and decrease the fire risk on-premises.
We can arrange this Fire Warden training course in-house for a group of your employees. If you have a large team that need to be made aware of fire safety and hazards, this course will be ideal for them.
To find out more fill out the enquiry form on the right and one of our friendly team members will be in touch.
Become a fire warden in just three hours
Reduce the fire risk of your organisation
Know what to do in the event of a fire
Work safely and understand legal requirements
You can complete this course in the classroom
Practical elements included
Valid for three years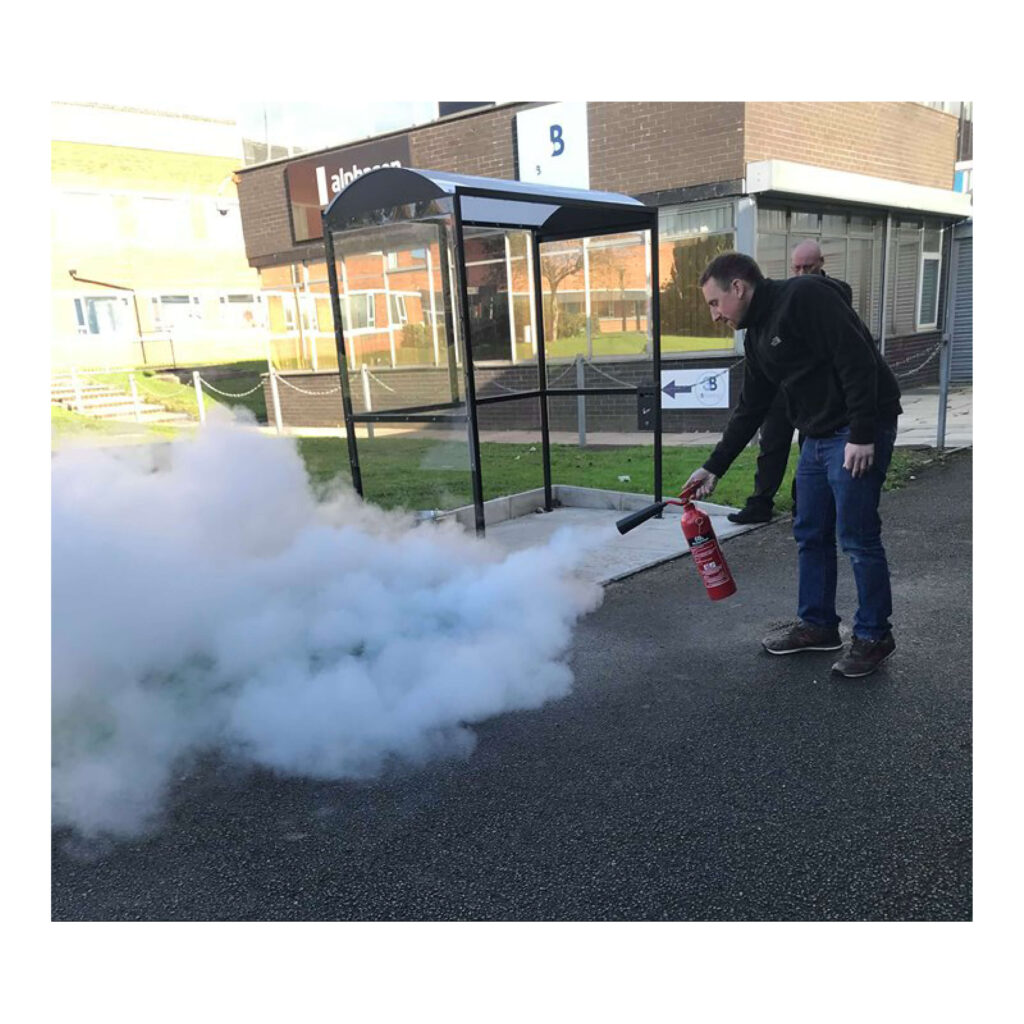 Fire Warden course content
You will learn the following topics throughout the training:
A Fire Warden / Marshal's responsibilities
The built-in fire-related fire protection components of a premises
Relevant fire safety law
How to act on the occasion of a fire alarm
Combustion and the relevant checks during an evacuation
The types of fire
Prevention of fire spreading
Arson
Safety Signs
The tutor splits the course into two parts. You will first attend a classroom theory component then a practical component. The practical element includes demonstrating the different types of extinguishers and the relevant safety signs around the building.
By the end of the training course, you will:
Understand how to prevent and manage fire in the workplace
Have a better awareness of fire safety and prevention
Gain knowledge selecting and using fire extinguishers
Understanding evacuation procedures
Know the role of an appointed person and how to contact the fire services
Assessment.
To pass the course, you must complete a multiple-choice examination and show your understanding to the tutor.
How long is the Fire Warden course?
We deliver the course over approximately three hours.
Within that time, you will take part in both classroom learning and practical demonstrations. You will also be able to ask the tutor any questions after the training.
The short duration allows you to be as productive as possible and qualify quickly.
Why should I take this course?
This course is for employees who have the responsibility for fire conduct. The training is vital to assure the safety of your colleagues. In the course, you will learn how to conduct your fire warden duties within the Regulatory Reform (Fire Safety) Order 2005.
Depending on the size of your business, you will need a certain number of fire marshals. You will require enough to cover the size of the building and enough backup if any fire wardens are absent. You don't want to be in an emergency with no trained personnel on-site.
By having one or more fire wardens in your business, you contribute to reducing the fire hazards in the workplace. They will notice high-risk activity and prevent the risk. Fire can not only be hazardous, but it can also be very costly to a business afterwards.
Fire Warden Training entry requirements
There are no formal requirements for this course.
We also ask that you have a good level of speaking and understanding English.
We were hoping you could get the most out of the course so that you can be a competent, responsible person in your workplace.
Is this course accredited?
Yes, this course is accredited by 3B Training.
At 3B Training, we pride ourselves on delivering good value training courses. Our team continually update and develop our courses so that you can get the best out of your time with us.
Where can I take this course?
This course is available in house, for delivery at your location, saving you time and money on sending your teams out for training.
In-house Courses
If you are looking to train a group of your employees as fire wardens, we can arrange the course in-house for you. We can deliver In-house courses at a 3B centre or a venue of your choice; we can tailor the content to be relevant to your organisation to encourage helpful discussion about internal fire safety. If you would like to book an in-house course, fill in the enquiry form on this page with all your requirements.
Further development
On completion of the course, you will be a qualified fire warden for your organisation. You will also receive a certificate 6-8 weeks after the completion date. The certificate is valid for three years and to renew it you must reattend the course.
If you would like to increase your knowledge and skill within occupational health and safety, you may also want to attend more courses with us?
Manual Handling – prevent accidents, injuries and absences in the workplace through proper manual handling techniques.
Emergency First Aid at Work – meet your organisations' requirements for first aiders in a low-risk environment.
IOSH Working Safely – an essential overview of various aspects of health & safety in the workplace.