First Aid at Work Course
First Aid at Work is a three-day course that you must attend to become a qualified first-aider in the workplace and meet their first aid requirements. You will learn the roles and responsibilities of a first aider and how to attend to various symptoms and injuries.
Accredited Level 3 qualification.
Three-days of intensive training.
Meet your organisation first aid requirements.
Learn life-saving skills.
Become an appointed first aider.
Valid for three years.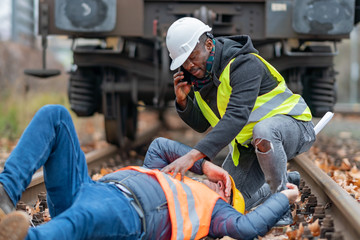 First Aid at Work course content
The content covered in the course includes both classroom and practical demonstrations. The tutor delivers the course through a variety of case studies and group discussions.
The tutor will cover the following subjects on the course:
Unit 1
The day-to-day role of a first-aider;  the roles and responsibilities, reducing infection risk, and the requirement for consent.
Assessing an incident; the primary survey, and carrying out a scene survey.
Administering first aid to an unresponsive casualty; administering CPR, demonstrating CPR on a dummy, the recovery position, demonstrating the recovery position on a dummy, and first aid during a seizure.
Providing choking first aid; recognising mild/severe choking, and demonstrating how to apply first aid to a choking casualty.
External bleeding casualty;  identifying the severity of bleeding, and showing how to control external bleeding.
Providing shock first aid; recognising someone who is in shock, and conducting first aid on a casualty who is in shock.
Minor injuries; how to deal with grazes, burns, minor cuts, scalds etc.
Unit 2
Conducting secondary survey; gathering casualty history, and showing how to conduct a head to toe survey.
Applying first aid to a casualty with suspected injuries to bones, muscles and joints; recognising the injuries, and demonstrate how to apply a sling.
Spinal and chest injuries; recognising head/spinal/chest injuries, and identifying/demonstrating first aid on a chest/spine/head injury.
Burns and scalds; identifying the severity and how to administer first aid.
Providing first aid on eye injuries; eye first aid on dust, chemicals and embedded objects.
Sudden poisoning; routes that poison enters the body, and administering first aid to sudden poisoning.
Major illnesses; dealing with a heart attack, stroke, epileptic seizure, asthma attack and diabetic emergency.
Assessment: You must complete a minimum of 18-hours contact time with the tutor to pass the course. This qualification is assessed through practical demonstration and a multiple-choice theory test. The tutor will also continually evaluate your understanding over the three days of the course.
How long is the First Aid at Work course?
This course is delivered over three days.
With this course, you will get an in-depth knowledge of first aid and take part in a range of practical exercises.
Why should I take this course?
People who need to become a qualified first-aider in the workplace, particularly in hazardous environments should attend this course.
The course will qualify you as a competent first-aider and allow you to meet the first-aid requirements for your organisation.
The course covers first aid extensively; the knowledge and skills that you gain can be used inside and outside of the workplace to attend to someone who needs first aid or even save a life.
First Aid at Work entry requirements
To attend, you must have a good knowledge of written and spoken English; you must understand the information that is given to you throughout the course. Administering first aid without complete understanding can be dangerous to the casualty.
The scheme rules also require you to be aged 18+; we will check your ID before the course begins.
Is this course accredited?
Highfield Qualifications accredit this first aid course. Highfield offers a range of compliance qualifications and are highly recognised throughout the UK.
Where can I take this course?
This course can be completed in the classroom or as an eLearning course.
Public Classroom Courses
Classroom-delivered First Aid courses are available to book in our venues across the UK. We have a range of live public course dates that individuals and companies can book directly onto, either through our website or over the phone. The course is delivered in a classroom environment by a Highfield approved tutor. We will organise the room to have an open floor space where the practical parts of the course can be delivered.
Please take a look at our upcoming public course dates here.
Remote Learning
Unfortunately, we are unable to deliver the First Aid at Work course remotely. This course can only be delivered in the classroom. Delegates will not be able to perform the practical demonstrations over video-call.
In-house Courses
Classroom-based FAW courses can also be delivered in-house specifically to your company. In-company training is a popular option for many of our clients as it can be delivered at a site of their choice. Delegates can also interact and discuss company-specific examples during the training. The in-house format allows a large group of your employees to become qualified all at once.
To enquire, all you need to do is fill in our in-house enquiry form on this page. We provide all of our quotes on a case by case basis, depending on location and delegate numbers.
eLearning Courses
We also offer the eLearning version of the First Aid at Work course. This course does not allow the learner to become a qualified first-aider. The eLearning format only includes the theory elements of the course so, therefore, isn't a full qualification. To obtain the full qualification, they will need to complete the practical in the classroom. This course is ideal for those who need first aid knowledge without becoming a qualified first-aider.
Once the learner has booked, we will send them their login information to the eLearning portal. They will then be able to access the course to complete each unit in their own time. The learner must complete the course within one year before the license expires.
For more information, visit our First Aid at Work eLearning page.
Further development
On completion of the course, you will receive a Highfield accredited certificate.
Your certificate will last for three years before it expires. After the FAW certificate has expired, you must complete a re-qualification to retain your qualification. Although, there is a 28 day period following the expiry where you are still able to attend the First Aid Requalification course. Please note that your certificate will be expired during the grace period; you must also provide a copy of your previous certificate when you book.
To refresh your knowledge in between courses, you can also complete the First Aid at Work eLearning course.
NEXT AVAILABLE COURSES
Next Available Courses
Leeds - 04 May 2021

£200.00 + VAT

Manchester - 08 Jun 2021

£200.00 + VAT

Wigan - 09 Jun 2021

£200.00 + VAT 2 PLACES LEFT!

Leeds - 14 Jun 2021

£200.00 + VAT

Liverpool - 15 Jun 2021

£200.00 + VAT

Wigan - 06 Jul 2021

£200.00 + VAT

Manchester - 13 Jul 2021

£200.00 + VAT

Leeds - 27 Jul 2021

£200.00 + VAT
Can't see the course date or location you are looking for?
VIEW MORE COURSES