First Aid at Work
First Aid at Work is a course that you must attend to become a qualified first-aider in the workplace.
How long is the First Aid course?
This course is delivered over three days.
Who should attend the First Aid at Work?
People who need to become a qualified first-aider in the workplace, particularly in hazardous environments should attend this course.
Is the First Aid course accredited?
This course is accredited by Highfield Qualifications.
When does my First Aid at Work certificate expire?
Your certificate will last for 3 years. There is a 28 day period following the expiry where you are still able to attend the First Aid Requalification course. Your certificate will be expired during the grace period.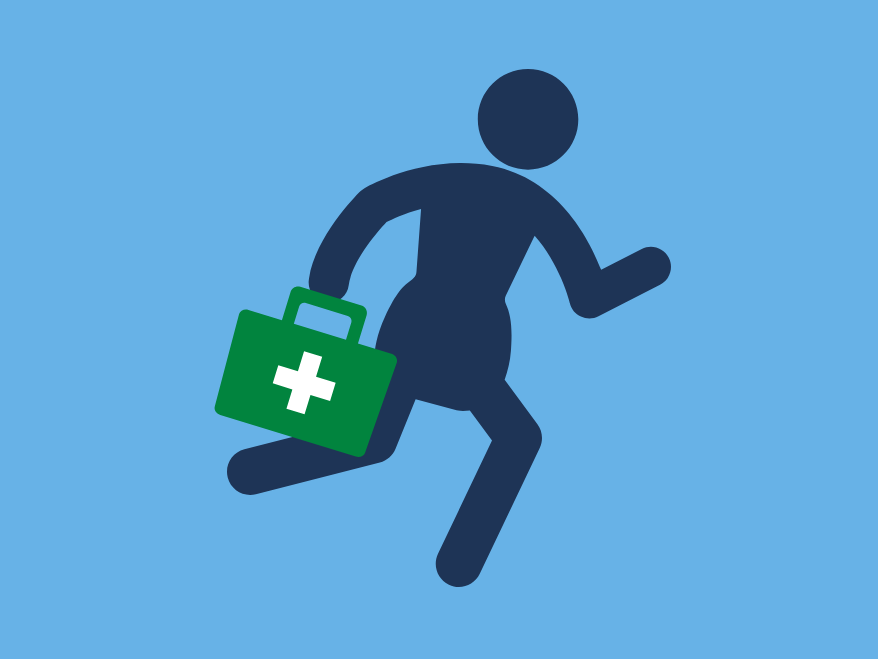 Delivery Options
This course can be completed in the classroom or as an eLearning course.
Public Classroom Courses
Classroom-delivered First Aid courses are available to book in our venues across the UK. We have a range of live public course dates that individuals and companies can book directly onto, either through our website or over the phone. The course is delivered in a classroom environment by a Highfield approved tutor. We will organise the room to have an open floor space where the practical parts of the course can be delivered.
Take a look at our upcoming public course dates here.
Remote Learning
Unfortunately, we are unable to deliver the First Aid at Work course remotely. This course can only be delivered in the classroom. Delegates will not be able to perform the practical demonstrations over video-call.
In-house Courses
Classroom-based FAW courses can also be delivered in-house specifically to your company. In-company training is a popular option for many of our clients as it can be delivered at a site of their choice. Delegates can also interact and discuss company-specific examples during the training. The in-house format allows a large group of your employees to become qualified all at once.
To enquire, all you need to do is fill in our in-house enquiry form on this page. We provide all of our quotes on a case by case basis, depending on location and delegate numbers.
eLearning Courses
We also offer the eLearning version of the First Aid at Work course. This course does not allow the learner to become a qualified first-aider. The eLearning format only includes the theory elements of the course so, therefore, isn't a full qualification. To obtain the full qualification they will need to complete the practical in the classroom. This course is ideal for those who need first aid knowledge without becoming a qualified first-aider.
Once the learner has booked, we will send them their login information to the eLearning portal. They will then be able to access the course to complete each unit in their own time. The learner must complete the course within one year before the license expires.
For more information visit our First Aid at Work eLearning page.
Entry Requirements
The delegate must have a good knowledge of written and spoken English and be aged 18+.
Course Content
What does the First Aid at Work course cover?
The content covered in the course includes both classroom and practical learning, leading to greater knowledge of:
Using a first aid kit
Dealing with an unconscious casualty
Cardiac arrest
Resuscitation
Fainting
Low blood sugar
Asthma
Seizures
Severe allergic reactions
Eye injuries
Fractures
Poisoning
Burns and scalds
Bleeding
Choking
Shock
Accurate recording of accidents and incidents
The tutor delivers the course through a variety of case studies and group discussions. You will also partake in practical exercises after tutorials from the tutor.
Course Objectives
On completion of the course, the delegate should have the knowledge to deal with accidents in the workplace.
What is required to pass the First Aid at Work training course?
Delegates must complete a minimum of 18-hours contact time with the tutor to pass the course.
This qualification is assessed through practical demonstration and a multiple-choice theory test. The tutor will also continually evaluate the delegates understanding over the three days of the course.
Is this course CITB Grant claimable?
No, unfortunately, this course is not CITB Grant claimable. View our CITB Approved Training Organisation page for more information on what courses you can claim from and how to claim here.
Further Development
After the FAW certificate has expired, you must complete a re-qualification to retain your qualification. You must provide a copy of your previous certificate when you book. To refresh your knowledge in between courses, you can also complete the First Aid at Work eLearning course.
NEXT AVAILABLE COURSES
Next Available Courses
Manchester - 03 Nov 2020

£200.00 + VAT 2 PLACES LEFT!

Wigan - 04 Nov 2020

£200.00 + VAT

Doncaster - 25 Nov 2020

£200.00 + VAT

Manchester - 02 Dec 2020

£200.00 + VAT

Wigan - 15 Dec 2020

£200.00 + VAT
Can't see the course date or location you are looking for?
VIEW MORE COURSES