Food Safety Level 2 eLearning
Food Safety Level 2 eLearning is an interactive online course ideal for those who deal with the handling of food in their day to day role.
How long is the Food Safety eLearning course?
Approx. 3 hours
Who should complete the Food Safety course?
Those who are involved in handling food in the manufacturing/retail/catering industries in a medium-risk environment.
Is the Food Safety course accredited?
Highfield accredited
When does my Food Safety certificate expire?
Three years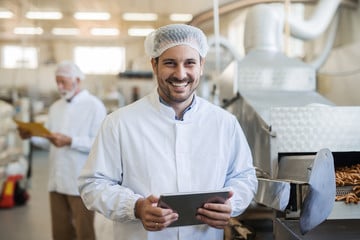 Course Content of the Food Safety Level 2 eLearning
The Highfield training course is delivered through 10 food safety-related modules which are delivered through a sequence of slides and activities. Highfield assesses the course through 50 multiple-choice questions. Highfield will send you your login details via email upon booking; you will have 12 months to complete the course before your license expires. Your certificate will be available for you to download when you have completed the course.
The online course modules are as below:
An introduction to food safety
Microbiological hazards
Hazard Analysis and Critical Control Points from delivery to service
Food poisoning and how to control it?
Contamination hazards and how to control it?
Food equipment and premises
Personal hygiene
Pest control and food pests
Disinfection and cleaning
Food safety enforcement
Further Development
The Level 2 course is also available as a classroom training course. You can book the course as an in-house training course at a 3B venue or a centre of your choosing. Find out more about the course here, or you can contact one of our training advisors to arrange a course here.
The next level of food safety course would be the Food Safety Level 3 eLearning course. If you are in a supervisory role in the catering and food industry this would be the course for you.
NEXT AVAILABLE COURSES
Next Available Courses
eLearning - Approx 3 hours

£25.00 + VAT