Food Safety Level 2 eLearning Course
Food Safety Level 2 eLearning is an interactive online course ideal for those who deal with high-risk food handling in their day-to-day role looking to improve their food hygiene and safety. Such as workers from cafes, fast food restaurants, hotels, restaurants, takeaways, mobile food trucks, hospitals, kitchens, colleges and schools. You will complete the course with improved knowledge on safely preparing and serving food whilst meeting mandatory training requirements.
Highfield accredited
CPD accredited training
A mandatory requirement for food handlers.
You complete the course entirely online.
A self-paced course that is highly accessible.
Valid for three years.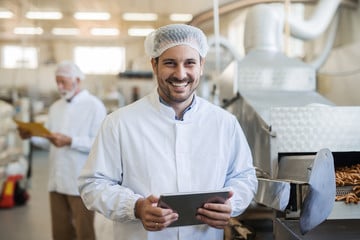 Food Safety Level 2 eLearning course content
We will send you your login details via email upon booking; you will have 12 months to complete the course before your license expires.
The Highfield training course is delivered through 10 food safety-related modules delivered through a sequence of slides and activities.
The online course modules are as below:
An introduction to food safety.
Microbiological hazards and how to reduce and manage them.
Hazard Analysis and Critical Control Points from service delivery.
Food poisoning and how to control it?
Contamination hazards and how to control them?
Food equipment and premises.
Address the personal hygiene of yourself and others.
Pest control, food pests and how to control them.
How to properly disinfect and clean your food preparation areas.
Food safety management systems, how to implement them, HACCP.
How to safely store and handle food to preserve quality.
Assessment
Throughout the course, you will complete regular knowledge checks to help you to stay on track. To pass the course, you will have to complete a 50 multiple-choice question assessment.
How long is the Food Safety Level 2 online course?
The course should take approximately between 4-6 hours to complete.
The benefit of an eLearning course is that you can complete it at your own pace. If you wish to manage your units around a busy schedule, you can; if you want to complete the course all at once, that is also an option.
Why should I take this course?
For legal and publicity reasons, businesses that handle food need to have complete confidence in their staff's food hygiene and safety. You can use this course as proof that you have a complete understanding of the legal requirements and that you are a competent food handler.
You can use this course as part of enrolling new staff or refreshing current workers' knowledge. If you need to know how to prepare or serve safely, this is the course for you.
Richard Sprenger wrote this course; he is a world-renowned food safety expert and author. The qualification assures that the training course contains quality and valuable content.
Food Safety Level 2 eLearning course entry requirements
There are no formal entry requirements for this course. 
Although to get the best out of your training, we recommend that you have a basic understanding of food safety.
To access the online course.
You must log in through a laptop, computer or tablet with access to the internet. You may also require speakers or headphones for parts of the training.
We do not recommend using a mobile phone for the training.
We cannot guarantee that the device will be compatible.
Is this course accredited?
This course is both Highfield and CPD accredited.
Highfield is the country's leading organisation for quality food safety training; they are committed to improving safety standards nationwide.
Food Safety Level 2 is also CPD accredited training, entitling learners to 3 Continuing Professional Development points.
Where can I take this course?
This course is only available to book online through our eLearning platform.
eLearning Courses
As long as you have an internet connection, you can access this course from anywhere, whenever you need to.
To book an eLearning course, you can book directly online or complete the enquiry form available on this page. Your enquiry will be picked up by one of the 3B team, who will be in touch.
In-house Courses
This course is also available as a classroom course if you would like us to deliver it as a bespoke course, especially for your company. The course can be arranged remotely, at a 3B training venue or a site of your choice. This format is ideal for clients who wish to train large amounts of their employees on the same course all at once.
You can contact one of our training advisors for a quote through our contact form on this page. Our quotes will vary depending on delegate numbers, course delivery format and location.
Further Development
On completion of the course, you will have access to download an instant PDF certificate. The certificate is valid for 3 years before it expires. To renew your certificate, you must reattend the course.
The next level of food safety course would be the Food Safety Level 3 eLearning course. If you are in a supervisory or managerial role in the catering and food industry, this would be the course for you.
The Level 3 course is also available as a classroom training course. You can book the course as an in-house training course at a 3B venue or a centre of your choosing. Please find out more about you can contact one of our training advisors to arrange a course here.
NEXT AVAILABLE COURSES
Buy This Course
Food Safety Level 2 eLearning

eLearning - 02 Jan 2030

£25 + VAT
Are you interested in other eLearning Courses?
VIEW MORE COURSES