GDPR Training eLearning Course
GDPR eLearning is an online training course that will explain the complexities of the General Data Protection Regulation and how it will affect you and your business. By understanding the regulations, you will know how to deal with data correctly and legally, therefore avoiding the consequences of misuse.
Highfield accredited.
It is delivered entirely online.
eLearning is a self-paced course that is highly accessible.
Get qualified quickly.
Protect yourself and your business.
Valid for three years.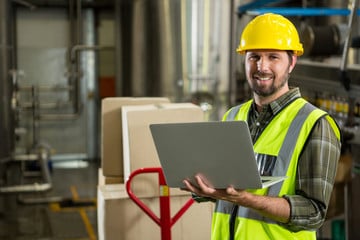 GDPR Training eLearning course content
Once you have booked the course, you will be sent your login details via email. As soon as you begin the course, you have up to 12 months to complete the course before your license expires.
The GDPR eLearning Highfield training course is designed to get you up to speed on the new legislation and how to protect your business. The short course covers the relevant subjects you will need to pass the online training through a range of interactive activities.
The following areas are covered in the course:
What is GDPR, and how does it affect data collection?
How you should process clients data
The rights of individuals over their data, including subject access requests and the right to be forgotten
Your organisations GDPR requirements
What is classed as personal data?
Data penalties and breaches
How long is the GDPR eLearning course?
The course usually takes around 20 – 40 minutes to complete.
The short duration allows you to gain the knowledge you need quickly and easily.
Why should I take this course?
Businesses who store any data relating to individuals & employees who handle data in their role should attend this course.
Knowing the General Data Protection Regulation is a great way to ensure that your organisation avoids the penalties, fines and bad press that comes with not following it.
If your clients know that their data is looked after properly and legally, that will help them feel protected by your business. A compliant business is a trustworthy business.
GDPR online course entry requirements
No prior knowledge is needed to complete this course.
Although to access the course.
You will need to use a computer, tablet or laptop. All that you need is an internet connection.  We ask that you don't attempt to access the course via a mobile phone. Unfortunately, we cannot guarantee that the course will be compatible.
Is this course accredited?
Yes, this course is accredited by Highfield Qualifications.
Highfield is globally recognised as a compliance training provider. Highfield's courses are written by industry experts, ensuring quality content throughout.
Where can I complete this course?
This course is only available through our eLearning platform.
eLearning Courses
eLearning courses are highly accessible. As long as you can connect to the internet, you can complete the course anywhere at any time.
To book an eLearning course, you can book directly online or complete the enquiry form available on this page. Your enquiry will be picked up by one of the 3B team, who will be in touch.
Please take a look at all of the eLearning courses we have available here.
Once you have booked, you will receive an email with your login details. You then have 12 months to complete the course before your license expires.
Further Development 
Highfield will send you a downloadable e-certificate on completion of the course; the qualification is valid for three years. To renew the certification when it expires, you will need to complete the course again.
We offer a range of other Legal & Compliance courses that cover mandatory aspects in the workplace. Take a look at all of the eLearning courses available here.
NEXT AVAILABLE COURSES
Buy This Course
GDPR Training eLearning

eLearning - 02 Jan 2030

£25 + VAT
Are you interested in other eLearning Courses?
VIEW MORE COURSES