High Risk Confined Space Training
This High Risk Confined Space training is the ideal course for anyone working in a high risk confined space environment. This is where one or more specified hazards are present for most or all the time.
This city and guilds confined space training  is a three-day course that includes practical elements. It is also available to complete as an in-house course in our Blackburn venue.
Our experienced trainer will teach you how to work safely in water and non-water industry areas. Furthermore, you will learn how to enter and exit high risk confined spaces safely.
With the knowledge gained from this High Risk Confined Space training, you will be able to keep yourself and other colleagues safe on the job.
This confined space course is accredited by City and Guilds and valid for three years. You will receive a City and Guilds confined space certificate after successfully completing this course.
This confined space training covers the following topics (for the full list of topics covered in this course, see the dropdown below):
Confined Spaces Regulations 1997 and approved code of conduct
Identification of a high risk confined space
Confined space classifications
Water industry national classifications
Risk assessment and workplace safety
Emergency planning
Benefits of this High Risk Confined space training?
Gives the knowledge, skills and confidence you need to work safely
You will learn how to understand and conduct risk assessments
Helps to plug the skill gap in your business
Will enable you to understand emergencies and how to deal with them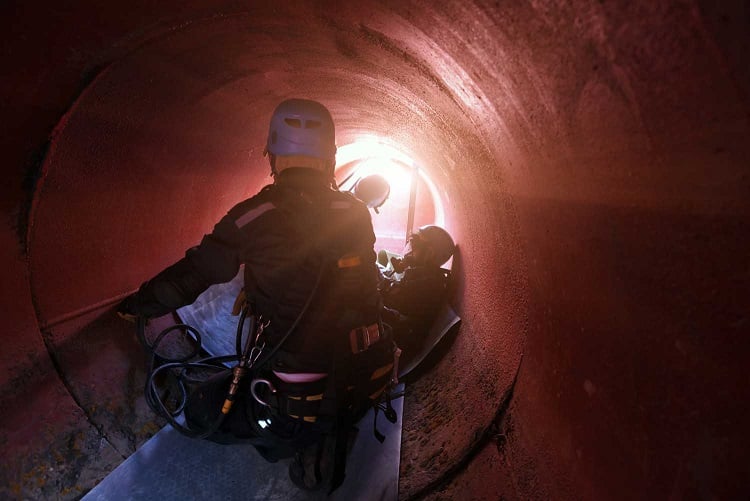 High Risk Confined Space course content
City & Guilds 6160-03 Level 2 Award in Working in High Risk Confined Spaces
This course provides an in-depth understanding of the legislation, safe systems of work and an awareness of high risk confined space assessments. The course is a mix of theory and practical training.
Theory
Confined Spaces Regulations 1997 & Approved Code of Practice
Identification of a high risk confined space
Detailed knowledge on the environments and specified risks that contribute to being a high risk confined space
Confined space classifications
Understanding the different levels of risk.
Water industry national classifications
Understanding of water industry classifications as detailed in Water UK Operational Guidance Notes (OGN)
Risk assessment and workplace safety
The steps to carry out a risk assessment
Operation of a safe system of work
How to prepare a safe system of work (SSOW)
Following and preparing a method statement
The importance of compiling with method statements
Emergency planning
Preparing a comprehensive emergency plan for personnel in a high risk confined space
Gas detection and risks
In depth knowledge of gas monitoring devices and hazardous atmospheres
Hygiene and first aid
Hazards associated with high risk confined spaces
SCBA – Self-Contained Breathing Apparatus and emergency breathing apparatus (EBA)
Experience the operation of life saving equipment and associated procedures
Assessment
Practical observation
Assess delegate's practical ability in a high risk environment
Undertaking risk assessments throughout the exercise to identify hazards
Ensure understanding of the hazards associated with a high risk workplace
Responding to risks and hazards
Monitoring actions and response to changes in conditions
Dealing promptly with emergencies
Short written answer question paper
You must complete a portfolio of evidence, as well as pass an exam in order to achieve this qualification.
How long is this course?
The course is delivered over three days.
Why should I take this course?
High risk confined spaces can be dangerous to work in without the required skills and knowledge. It is important to know how to prepare the work and use the tools before entering the confined space.
The course will give you up to date knowledge of the legislation and standards surrounding confined spaces. This will help you to work legally as well as safely.
Entry Requirements
To attend this course, you must read, write and understand English well.
Without proper communication between workers, the safety of the work is compromised.
You must also have the required level of physical fitness to complete the practical elements of the course, and be free of the following medical conditions:
Heart disease/chest pain
Raised blood pressure
Epilepsy, fits, blackouts
Fear of heights/vertigo
Giddiness/difficulty with balance
Impaired limb function
Alcohol or drug dependence
Psychiatric illness/counselling
Diabetes
Asthma or impairment of breathing
Claustrophobia
Skin problems
Eyesight problems not corrected by glasses or contact lenses
Regular medication impairing attention or consciousness
If you suffer from any of the above medical conditions, you will not be allowed to climb unless a Doctor's note is provided stating the candidates fitness to climb.
You should also weight below 130kg (including clothes) to complete this course.
Is this course accredited?
Yes, this course is accredited by City and Guilds, and valid for three years.
You will receive a City and Guilds certificate after successfully completing the course.
How is this course delivered?
In-house Courses
We can organise in-house High Risk Confined space courses for your workforce in our Blackburn venue.
We can arrange the course for up to 10 delegates per instructor.
For a quote, complete the in-house enquiry form on this page. All of our enquiries are quoted on a case by case basis depending on delegate numbers and location.
Is this course CITB Grant claimable
Yes, companies who are CITB registered can claim for each delegate who successfully pass this course.
You can find the list of short courses and the grant amounts you can claim here: CITB Grant Value for Short Courses
FAQs
What is a Confined Space?
Some confined spaces are fairly easy to identify, e.g. enclosures with limited openings such as a trench, storage tanks, silos, enclosed drains, sewers, pits and culverts.
Others may be less obvious, but can be equally dangerous, for example unventilated or poorly ventilated rooms.
What is a Safe System of Work?
A safe system of work should provide a written description of the work to be carried out and the precautions to be enforced.
What is an Emergency Plan and Arrangements?
Under the Confined Spaces Regulations 1997, an emergency plan and arrangements must be in place before anyone enters a confined space.
Emergency plans must cover all risks in the confined space and not just the specified risks.
Do you need to be trained to work in a High Risk Confined Space?
Employers and others in control of work in high risk confined spaces must properly plan for confined space work.
They must ensure that any individuals involved in planning, supervising, monitoring and carrying out the work are competent in their responsibilities.
This includes providing the necessary information, instruction and training.
What is a High Risk Confined Space?
This involves any confined space where one or more specified hazards are present for most or all of the time.
Examples include historic alarms, gas – either explosive or toxic, heat, lack of oxygen, engulfment, drowning.